Vines - Flowering
---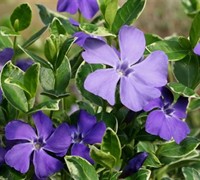 Ralph Shugart Periwinkle
In Stock
Shade or AM Sun / 4-6"H x 24"+W / Evergreen flowering groundcover with leaves edged in white! / Zones 4A-9A.
$71.97
$50.97
Confederate Jasmine
In Stock
Sun or Part Shade / 10-12'H x 3-4'W / Highly fragrant white flowers late spring through mid-Summer! / USDA Zones 7A-10B
$30.97
$21.97
You may also be interested in...
New Arrivals at Gardener Direct: