Vines for Fall Color
---
Anne Marie Variegated Ivy
In Stock
Shade or Part Shade / 5-6"H x 24"+W / A wonderful white variegated ivy similar to English Ivy / Zones 5A-10A.
$54.97
$38.97
Variegated Bigleaf Periwinkle
In Stock
Shade or AM Sun / 8-10"H x 24"+W / Flowering evergreen lights up the shade garden and spreads quickly! / Zones 6A-11.
$54.97
$38.97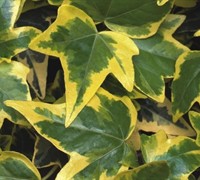 Gold Child Ivy
In Stock
Sun or Shade / 6-8"H x 12"+W / Gorgeous golden-yellow margins on this slow growing variety / USDA Zones 5B-10.
$54.97
$38.97
You may also be interested in...
New Arrivals at Gardener Direct: