Echinacea - Coneflowers
---
Pow Wow Wildberry Coneflower
In Stock
The sun loving Pow Wow Wildberry Coneflower blooms the first year.
$24.99
$19.97
Cheyenne Spirit Coneflower
In Stock
Flourescent orange, bright red, golden yellow, purple, and white flowers summer-early fall. 2-3'H x 1-2'W / Full or Mostly Su...
$24.99
$19.97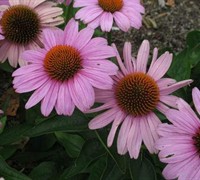 Prairie Splendor Echinacea - Coneflower
In Stock
Sun or Part Sun / 12-24"H x 24"W / Rosy Single Flowers Early Summer thru Fall! / USDA Zones: 4-8
$29.99
$26.97
You may also be interested in...
New Arrivals at Gardener Direct: