USDA Plant Hardiness Zone Map
What is a USDA Hardiness Zone? Why Does It Matter?
Hardiness zones were determined by the United States Department of Agriculture (USDA) to help gardeners and growers determine which plants are most likely to thrive in a particular location.
The zones are based on an area's average annual minimum winter temperature. Colder zones have lowers numbers, and warmer areas have higher numbers. The whole numbers (1, 2, 3, etc.) represent areas that differ by 10 degrees Fahreinheit. The subzones ("a" and "b") represent a 5-degree Fahreinheit variance.
The USDA map is the most frequently used guide for determining if a plant will grow successfully in a particular area. It is used by most gardeners, gardening magazines, catalogs, books, websites, and nureries.
Important Limitations To Consider
However, the USDA zone system is not infallible. As it is based only on average annual extreme minimum winter temperatures, it does not account for variations in other climatic conditions. For optimial plant survival, a gardener needs to also consider other climatic factors such as humidity, precipitation levels, storms, and cycles of wet/dry weather. Zones also do not factor in other winter factors such as frost dates and the frequency and amount of snow cover. For example, snow can be an insulator against extreme cold, and so areas with higher levels of snowfall can actually provide more protection to the roots of a plant.
Zones also do not take into account the day length of the various seasons. Some plants may survive and grow, but will not flower if the length of daylight is insufficient. Other plants may need a particular duration of cold weather (called vernalization) in order to flower the following season. In essence, the USDA zone system can help to determine the survivability of a plant, but may not represent optimal growing conditions for a plant.
Plants also vary greatly in their needs for a particular type of soil, optimal soil drainage, sun exposure, and soil pH. Here at Gardener Direct, we provide you with the optimal needs for each plant we sell. Use the USDA zones to narrow down plants that are suitable for your area, but also thoroughly research the individual needs of a plant before purchasing and planting to see if you have just the right spot for it in your garden!
USDA Plant Hardiness Zone Map
Each USDA Zone has a number and color code. Find your location on the map below and then note the corresponding color and zone number.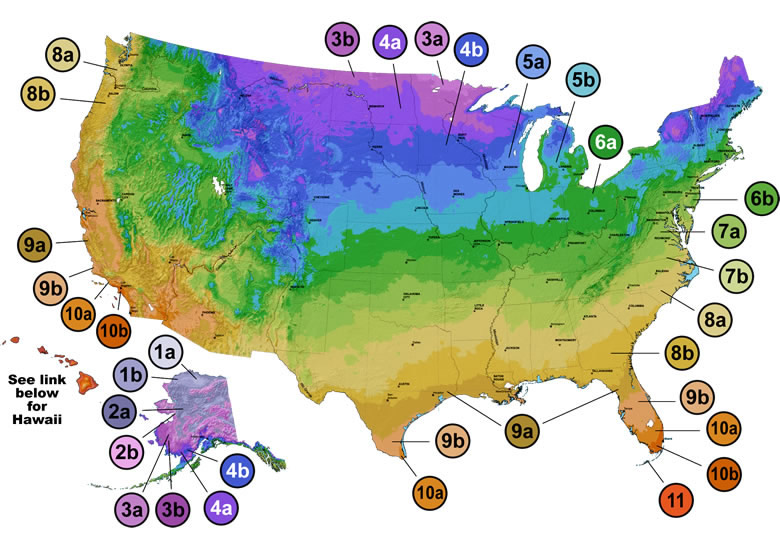 New Arrivals at Gardener Direct