Crape Myrtle Trees
---
Muskogee Crape Myrtle - Lagerstroemia indica x fauriei 'Muskogee'
In Stock
Full Sun / 20-30'H x 15-20'W / Large clusters of beautiful soft lavender flowers on a weeping canopy! / USDA Zones 6A-9B
$39.99
$29.97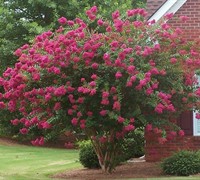 Tuscarora Crape Myrtle - Lagerstroemia indica x fauriei 'Tuscarora'
In Stock
Full Sun / 15-20'H x 10-15'W / Stunning coral-pink flowers for up to 120 days during summer! / USDA Zones 5A-9B
$44.99
$29.97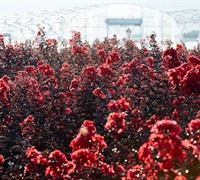 Ebony Flame Crape Myrtle - Lythraceae Lagerstroemia 'Ebony Flame'
In Stock
This black leaf specimen has bright red blooms and grows best in zones 61 to 9b.
$32.99
$26.97
Ebony Fire Crape Myrtle - Lythraceae Lagerstroemia 'Ebony Fire'
In Stock
Favoring full sun this black leafed crape myrtle grows best in usda hardiness zones 6a -9b.
$63.99
$26.97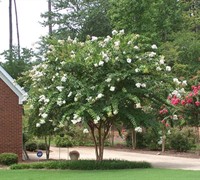 Natchez Crape Myrtle - Lagerstroemia indica x fauriei 'Natchez'
In Stock
(1)
Full Sun / 20-30'H x 15-20'W / Large white flowers. Spectacular cinnamon color trunks. Semi-weeping! / USDA Zones 6A-9B
$39.99
$29.97
You may also be interested in...
New Arrivals at Gardener Direct: