Product Details
Confederate Jasmine is a fast growing vining plant that can be grown in USDA Plant Hardiness Zones 7A through 7A. It matures to an average height of 10 feet to 12 feet and an average width of 2 feet to 3 feet, depending on climate and other environmental factors. It prefers growing in a location that provides full sun and grows best when planted in sand soil that is well drained. In the spring Confederate Jasmine produces white flowers. The foliage is dark green in color. It attracts wildlife and is resistant to drought. If you like fragrance, Confederate Jasmine has fragrant flowers.

Confederate Jasmine can be useful in the landscape along woodland borders and also in theme gardens.

More about the Confederate Jasmine Vine...
The Confederate Jasmine Vine produces an abundance of highly fragrant white, star-shaped flowers fro spring through early summer. It is a fast-growing, twining, evergreen vine that will grow or climb up to 15 feet in a relatively short period of time.
Confederate Jasmine is not too picky about soil. It will tolerate somewhat damp soils but is also exceptionally drought tolerant. It prefers growing in sun but will appreciate some afternoon shade in the South.
Plant Confederate Jasmine along the top of fences, on a trellis, on a mailbox, over an arbor or any other structure that might benefit from or support the flowering vine. Especially nice near windows or outdoor sitting and living areas where the fragrance can be enjoyed from close up.
---

Works great with: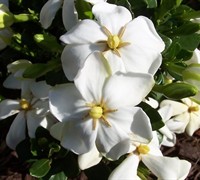 Hardy Daisy Gardenia
$24.99
$19.97
Arp Rosemary - Rosmarinus
$134.97
$95.97
Customer Reviews
4.8
out of 5 stars from
10
total customer reviews
8 reviews
2 reviews
0 reviews
0 reviews
0 reviews
Most Helpful Reviews
Great!
May 22nd 2016
by Deanna - Savannah, GA
Plant was packed very well. Ordered a 3 gallon and it looks great and lush! Ready to get planting!
Happy
April 22nd 2016
by Kate - Birmingham, AL
Love that your site is so easy to use and order from! My plants were all in good condition when they arrived. Couldn't be happier!
Fast-growing, Fragrant Screen
March 13th 2014
by Vicki - Baltimore, MD
Great plants! Beautiful on a trellis. It's doing great so far. Thank you!!
Happy, happy, happy!
June 21st 2013
by Kirk - Pine Bluff, AR
Just wanted to thank you for my Confederate Jasmine, I have ordered from other companies in the past and it took forever to arrive. Ordered from your site and my plant arrived in less than a week and looking great! Very happy! Thank you!!
Wonderful!
May 2nd 2013
by Bree - Nashville, TN
Very beautiful plants! So surprised at how healthy and full they were, you would never know they were ordered online - look like they came straight from my local nursery! I was so impressed with the quality that i plan to order other plants from you very soon! Thanks!!
Confederate Jasmine
July 14th 2012
by Will - Atlanta, GA
Confederate Jasmine was in excellent condition, leaves were lush and green. Planted as soon as it arrived. Doing great so far!
Confederate Jasmine
June 11th 2012
by Susan - Richmond, VA
My Confederate Jasmine arrived in beautiful condition! Ordered a 1 gallon and so happy to see that the soil was nice and moist when it arrived, it was packed so well and i was very impressed! Plants are very pretty and green with some flower buds. So happy with purchase, i will order again!
Confederate Jasmine
May 3rd 2012
by Jenna - Charlotte, NC
Great packing job! Plants arrived in good shape. Blooming and doing good, smells great. Thank you.
Confederate Jasmine
June 15th 2012
by Tina - Jacksonville, FL
Received my plants very quickly. Jasmines look great. Very happy.
Confederate Jasmine Customer Review
April 12th 2011
by Cathey - Gainesville, GA
Received my confederate jasmine plant and it was beautiful! Very happy with how healthy it was upon arrival, it is blooming now and in great shape!
New Arrivals at Gardener Direct: