More about Dwarf Alberta Spruce ....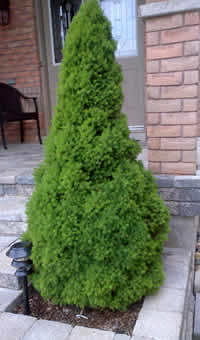 Noteworthy Characteristics
Dwarf Alberta is a truly miniature Spruce tree. It is prized for it's compact pyramidal growth habit and small stature. Dwarf Alberta Spruce adds year round structure to any garden whether formal or informal.
Uses
Use as a single specimen focal or feature plant, in small groupings, foundation plantings, to frame or soften entryways or corners, in decoritive containers, an outdoor Christmas tree, or just about anywhere that gets a few hours, or more, of sun each day. Also wonderful for topiary such as spirals, poodles, and other forms.
Culture
Plant in fertile, well drained or moderately drained soil. Rarely, if ever, needs pruning. In hotter climates plant in part shade, preferrably mid afternoon shade. Once established water needs are quite low. If planted in containers monitor watering closely. Too little or too much water can be detrimental.
Helpful Planting & Care Tips Provided By Our Experts...
How To Plant A Tree On A Slope, Hill Or Embankment
How To Stake A Newly Planted Tree
---
See...