Shrubs - Variegated
---
Spider's Web Fatsia
In Stock
Shiny, large green leaves are speckled and smothered with white variegation. Grows 3'H x 3-4'W / Shade to Mostly Shade / USDA...
$29.99
$23.97
Saybrook Gold Juniper - Juniperus Pfitzeriana 'Saybrook Gold'
In Stock
Arching sprays of bright golden foliage. 2-3'H x 4-6'W / Full or Mostly Sun / USDA Zones 4-9
$24.99
$19.97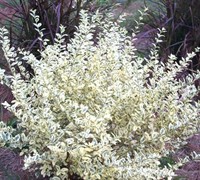 Variegated Privet - Ligustrum sinense 'Variegata'
In Stock
(3)
Full Sun or Light Shade / 6-12'H x 6-12'W / Exceptionally fast growing and colorful shrub or small tree / USDA Zones 6B-10A
$32.99
$22.97
Olive Martini™ Elaeagnus - Silverthorn
In Stock
Full to Mostly Sun / 10-15'H x 10-15'W / This plant has it all: Colorfull foliage, fragrant flowers, sweet edible berries. / ...
$29.99
$19.97
Variegated Pittosporum - Pittosporum tobira 'Variegata'
In Stock
(2)
Sun or Part Shade / 6-8'H x 6-8'W / Attractive, creamy white and mint-green foliage! / USDA Zones 7B-11
$32.99
$24.97
You may also be interested in...
New Arrivals at Gardener Direct: