Japanese Maples 6-10 Feet
---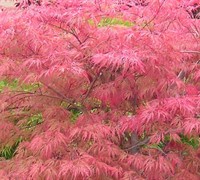 Watnong Japanese Maple
In Stock
Sun or Part Shade / 3-6'H x 6-8'W / Spectacular pink new growth spring into summer on this fast grower! / USDA Zones 5-9
$179.99
$134.97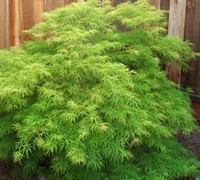 Waterfall Japanese Maple
In Stock
Part Shade or Filtered Sun / 6-8'H x 8-10'W / A beautiful green laceleaf with a cascading habit / USDA Zones 5A-8A
$153.99
$134.97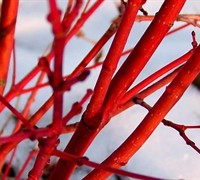 Fjellheim Dwarf Coral Bark Japanese Maple
In Stock
Sun or Part Shade / 6-8'H x 4-6'W / A dwarf form of the Coral Bark Maple with red branches in winter! / USDA Zones 6A-9A
$148.99
$105.97
Kandy Kitchen Japanese Maple
In Stock
Sun or Part Shade / 4-6'H x 4-6'W / A dense, dwarf, upright red perfect for smaller gardens and containers / USDA Zones 5B-9B
$163.99
$134.97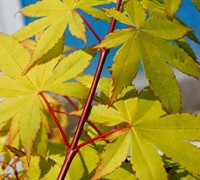 Summer Gold Japanese Maple
In Stock
Full Sun pr Part Shade /8-12'H x 4-6'W / Bright golden-yellow foliage during summer! / USDA Zones: 6A-9A
$179.99
$134.97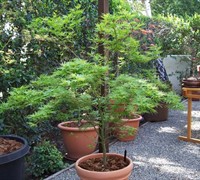 Kamagata Japanese Maple
In Stock
Sun or Part Shade / 6-12'H x 6-8'W / A drought tolerant dwarf that can thrive in drier soils / USDA Zones 5B-9B
$163.99
$134.97
Golden Bark Bihou Japanese Maple
In Stock
(1)
Part Shade or Filtered Sun / 6-10'H x 4-6'W / Outstanding yellow bark during the winter! / USDA Zones 5A-9B
$198.99
$141.97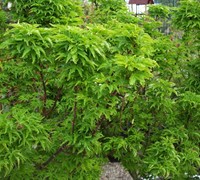 ShiShigashira / Lions Head Japanese Maple
In Stock
(1)
Unusual, crinkled, bright green leaves grow in tufts. Grows 7-15'H x 5-12'W. Sun/Part SHade. USDA Zones 6A-8B.
$186.99
$129.97
Viridis Japanese Maple
In Stock
(2)
Sun or Part Shade / 5-8'H x 5-8'W / Beautiful, bright, light-green leaves hold color throughout the season / USDA Zones 5A-8B
$153.99
$134.97
You may also be interested in...
New Arrivals at Gardener Direct: