Product Details
Lagerstroemia Indica ''Delea' PPAF Delta Moonlight™' is a fast growing shrub that can be grown in USDA Plant Hardiness Zones 7A through 7A. It matures to an average height of 5 feet to 6 feet and an average width of 4 feet to 6 feet, depending on climate and other environmental factors. It prefers growing in a location that provides full sun and grows best when planted in sand soil that is well drained. In the summer Delta Moonlight Crape Myrtle produces white flowers. The foliage is burgundy in color. It attracts butterflies and is resistant to deer.

Delta Moonlight Crape Myrtle can be useful in the landscape in foundation plantings and also in theme gardens.
More about Delta Moonlight Crape Myrtle...
Noteworthy Characteristics
Delta Moonlight is an exciting new hybrid that holds up to that flowering standard, packing a punch when it is smothered during summer with white flowers. But, what makes it truly one of a kind is the wonderful deep maroon foliage that does not fade at all! It is a semi-dwarf with a fast rate of growth that will eventually reach a mere 10 feet in height with a spread of about 5 feet - perfect for today's smaller gardens!
Uses
Because of it's unique color and form, we like using Delta Moonlight in the landscape as a stand alone specimen in sunny parts of the landscape. Similar to Japanese maples in effect, it's outstanding features make it worthy of use as a focal point. That being said, several can be grouped together for larger splashes of color or planted in rows to form a colorful hedge. It works especially nice as espalier; trained to grow flat against light colored walls.
Culture
As with other Crape Myrtle, Delta Moonlight adapts to many soil types, provided the soil is well-drained. It grows and blooms best in full sun though light shade is tolerated in the hottest locations.
Helpful Planting & Care Tips Provided By Our Experts...
How To Plant A Crape Myrtle Tree
How To Prune A Crape Myrtle Tree
How To Plant A Tree On A Slope, Hill Or Embankment
How To Fertilize A Crape Myrtle Tree
How To Stake A Newly Planted Tree
---
See...

Works great with:
Gulf Stream Nandina
$24.99
$19.97
Green Mound Juniper - Japanese Garden Juniper
$19.97
$13.97
Soft Touch Holly
$32.99
$25.97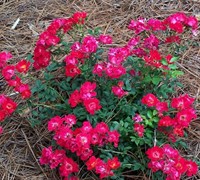 Red Drift Rose
$26.97
$23.97
New Arrivals at Gardener Direct: