Shrubs - Hummingbird Attracting
---
Feijoa Pineapple Guava - Acca Sellowiana
In Stock
Edible fruit and flowers. Good tree-form specimen. Beautiful foliage. 12-15'H x 10'15'W / Full Sun or Part Shade / USDA Zones...
$24.99
$19.97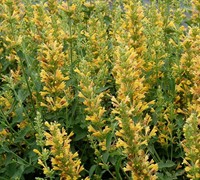 Kudos Yellow Hyssop
In Stock
The Kudos Yellow Hyssop catches the vibrant yellow of the sun in its blooms and adds a pop of color to any container garden.
$29.99
$24.97
You may also be interested in...
New Arrivals at Gardener Direct: