Boxwood Shrubs
---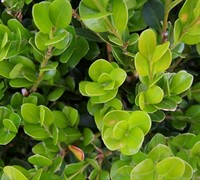 Wintergreen Boxwood - Buxus sinica var. insularis 'Wintergreen'
In Stock
Sun or Part SHade / 4-5' x 4-5' / Dark green lustrous leaves. One of if not the hardiest boxwoods / USDA Zones 7A-9B
$32.99
$23.97
Baby Gem Boxwood
In Stock
(2)
The tiny foliage and dwarf compact form are great for smaller gardens or low hedges. Grows 2-3'H x 2-3'W / Sun or Half Sun / ...
$32.99
$23.97
Japanese Boxwood - Microphylla japonica ' Japanese'
In Stock
Great for hedges, entryways, corners, foundations shrubs, and topiary specimens. 5-6'H x 4-6'W / Full or Mostly Sun / USDA Zo...
$24.99
$19.97
You may also be interested in...
New Arrivals at Gardener Direct: