Product Details
Mary Nell Holly is a moderate growing shrub that can be grown in USDA Plant Hardiness Zones 6A through 6A. It matures to an average height of 15 feet to 20 feet and an average width of 8 feet to 10 feet, depending on climate and other environmental factors. It prefers growing in a location that provides full sun and grows best when planted in sand soil that is well drained. The foliage is dark green in color. It attracts wildlife and is resistant to deer.

Mary Nell Holly can be useful in the landscape along woodland borders and also in rock or xeriscape gardens.

More about Mary Nell Holly...
Noteworthy Characteristics
Mary Nell holly has some of the prettiest foliage and berries of any holly, which is saying quite a lot. The word shiny doesn't quite convey the beauty of these leaves...and these lustrous leaves maintain their attractiveness year-round.
Uses
Mary Nell Holly is tidy and polished in form making it useful as a specimen. It's dense enough that it works well as a windbreak and the spiny leaves make it a good choice for a barrier hedge. It would also be dramatic lining a drive, clustered about an entryway, or to frame the corners of a taller home or other building.
Culture
Prefers sun to part shade and well drained moist acidic soil. No pruning necessary however can be clipped to a more formal shape.
---

Helpful Planting & Care Tips Provided By Our Experts...
How To Plant A Tree On A Slope, Hill Or Embankment
How To Stake A Newly Planted Tree
---
See...

Works great with: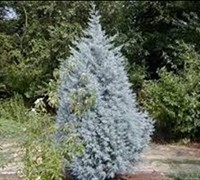 Silver Smoke Arizona Cypress
$54.99
$43.97
Little Gem Dwarf Southern Magnolia
$88.97
$62.97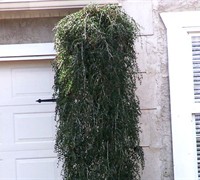 Weeping Yaupon Holly - Ilex vomitoria 'Pendula'
$50.97
$35.97
New Arrivals at Gardener Direct: