Digiplexis
Digiplexis plants, which are Hybrid Foxglove plants, are prized for the tall spikes of pretty foxglove-like flowers they produce above rosettes of attractive foliage throughout spring and summer. Easy to grow in well drained moist soil and sun to part shade. Buy Digiplexis plants from Gardener Direct and we'll ship high quality, container-grown, fully rooted, nursery and garden center grade plants to your front door that are ready to plant and thrive in your garden - Guaranteed!
---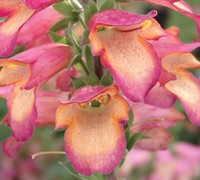 Illumination® Flame Digiplexis®
(1)
Sun or Part Shade / 10-36"H x 10-12"W. Spikes of Rosy-Pink & Peach Flowers Spring thru Fall! / Zones: 8-11
$21.99
$16.97
Digiplexis 'Berry Canary'
Hot pink flowers with creamy yellow, burgundy speckled throats. Shiny deep green foliage. 2'H x 1-2'W / Full or Half Sun / US...
$29.99
$22.97
You may also be interested in...
New Arrivals at Gardener Direct: