Product Details
More about Purple Velvet Crape Myrtle...
Noteworthy Characteristics
Purple Velvet is a dwarf crape myrtle with the deepest purple blooms we've ever seen. This shade of purple-violet is so dark it is almost black. The shrub itself grows to about 4 to 5 feet in height with an equal or norrower spread.
Uses
Love crape myrtles but don;t have room for the larger growing varieties? Purple Velvet is a dwarf that fits in to smaller gardens and spaces. Even nice for containers. It can be useful as a specimen, in small groupins or as a colorful hedge.
---
Helpful Planting & Care Tips Provided By Our Experts...
How To Plant a Shrub in a Container or Pot
How To Prune A Dwarf Crape Myrtle
---
See...
---


Works great with: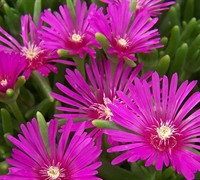 Delosperma cooperi - Purple Hardy Ice Plant
$24.99
$19.97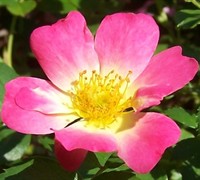 Pink Drift Rose
$32.97
$22.97
Customer Reviews
0
out of 5 stars from
0
total customer reviews
0 reviews
0 reviews
1 reviews
0 reviews
1 reviews
Most Helpful Reviews
Not really a normal one gallon size plant.
May 12th 2014
by John - Kingsland, Texas
I really wanted this plant...enough to accept the plant which was really too small to be represented as a one gallon plant....I thought that a little deceptive. It was healthy, but VERY small. It is alive and doing well and will hopefully become a real plant before I go to heaven.
Reply from Gardener Direct:
Hi John - We hear you. However, this is a dwarf crape myrtle and when shipped early in spring the top portion of the plants will be smaller than they would further along in the warm season, after the plants have fully flushed. That we checked, the plants we sent out this spring (2014) had been cut back some but had a good root system in their 1-gallon containers. Plant in well-drained soil and water only enough to keep the root ball and the soil around the root ball damp, but not constantly soggy. By summer, your crape myrtle should look fuller. If not, or if there are any problems, please let us know.
The size is a joke!
June 8th 2014
by Dianne - New Jersey
I wish that I could review this plant. the container may be a gallon, but the plant was 2 sticks with 4 green leaves....totally 2 inches tall. One month later and we now have an extra inch and 10 leaves. I cannot imagine how long it will take to actually see this plant at it's true size. I realize that you claim to "trim it for shipping", but this is a joke....a complete rip-off.
Reply from Gardener Direct:
Hi Dianne - At Gardener Direct your satisfaction is guaranteed. We know very well that there are many companies out there who actually intend to rip off their customers. But Gardener Direct is not at all like that. We are just the opposite...and do business the old-fashioned way. Spend a little time reading reviews on other plant pages and you'll see the type of company we are. A month or so ago the Purple Velvet Crape Myrtles were small because we had pruned them in late winter to force a good flush when they emerged from dormancy in spring. Spring hit a month or so late here in mid Georgia so the tops of the plants were late flushing out. We're sure the plant you received will continue to grow and become a nice specimen, however we are going to ship you a second one at no charge. The plant we ship should have at least 70 to 100 leaves:-) Let us know if there's ever anything else we can help you with in the future.
New Arrivals at Gardener Direct: