More About Annual Ryegrass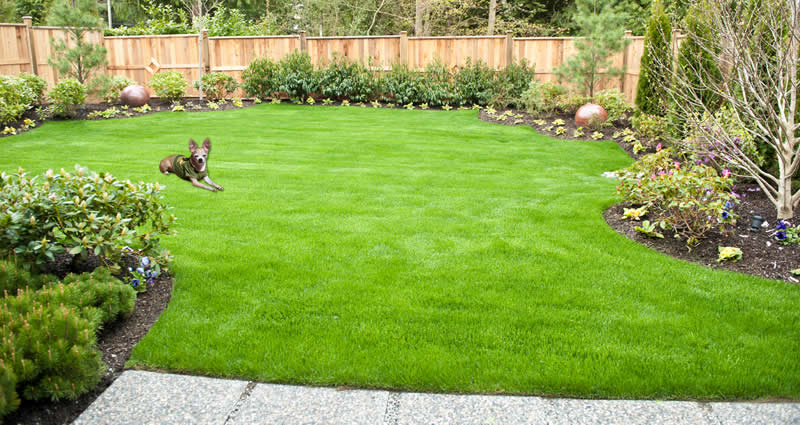 No grass can equal modern Ryegrass in its ability to rapidly produce thick, handsome, durable turf. It rapidly develops a strong root system, responds rapidly to fertilization, never needs pampering and is not subject to disease problems.
Ryegrass is the world's most widely used grass and its ability to germinate in 3-10 days (depending on conditions) is legendary. Annual Ryegrass is widely used for the overseeding of dormant lawns, such as bermudagrass, in the southern United States and is also useful anywhere where short-term rapid groundcover is desirable.
Annual Ryegrass performs in a wide variety of soil types and will do well in clay or compacted areas which are not subject to heavy use. Southern home lawns overseeded with Annual Ryegrass have many benefits beyond traditional good looks. A healthy winter lawn chokes out weeds and reduces the need for herbicides.
When overseeding your existing lawn with Annual Ryegrass it takes surprisingly little water for seed germination and maintenance of your lawn during the winter months.
When to overseed with ryegrass?
The best time to overseed a bermuda, zoysia or other type of lawn with annual ryegrass is when the daytime temperatures in fall are averaging around 70 degrees F, give or take 10 degrees, and when nighttime temperatures are averaging around 50 degrees F, give or take 10 degrees. In the South, October is a great month for overseeding with annual ryegrass.
Preparing the lawn for overseeding
In order for annual ryegrass seed to germinate (sprout), the seeds will need to come into contact with soil. No matter what you do or don't do, whether you aerate the ground with an aerator or not, the seed will eventually make it down to the ground and germinate. That being said, mowing your lawn an inch or so lower than normal and/or aerating before broadcasting the seed will help get good seed-to-soil contact and speed up the germination process. If you aerate, make two or more passes over the lawn going in opposite directions.
Broadcasting the seed
To insure even coverage, use a rotary-type walk behind or shoulder-type broadcast spreader to spread the annual ryegrass seed at a rate of 10 pounds of seed per 1,000 square feet of lawn area.
Set your spreader about 1/3 open and cover the lawn area going back and forth in one direction. Then adjust your spreader as necessary to cover the lawn area again with the remaining seed, going in a opposite direction. Spreading the seeds this way will ensure even coverage over the lawn.