Product Details
Magnolia Grandiflora 'Bracken Brown Beauty' is a moderate growing tree that can be grown in USDA Plant Hardiness Zones 6A through 6A. It matures to an average height of 30 feet to 40 feet and an average width of 10 feet to 15 feet, depending on climate and other environmental factors. It prefers growing in a location that provides full sun and grows best when planted in sand soil that is well drained. In the spring Bracken Brown Beauty Magnolia produces white flowers. The foliage is medium green in color. It attracts wildlife and is resistant to deer. If you like fragrance, Magnolia Grandiflora 'Bracken Brown Beauty' has fragrant flowers.

Bracken Brown Beauty Magnolia can be useful in the landscape along woodland borders and also in cottage gardens.

More About Bracken's Brown Beauty Magnolia...
Noteworthy Characteristics
Unlike the species, the cultivar Bracken's Brown Beauty is a big improvement. It grows to 30 feet tall and is noted for its dense, compact, narrow pyramidal form. Large (8-inch diameter), fragrant, cup-shaped white flowers bloom in late spring, with sparse continued flowering throughout summer. Birds love the attractive red fruits that develop in cone shaped clusters late in the season. Thick, leathery, evergreen, glossy dark green leaves with rusty brown undersides are attractive year round. Handles temperatures as cold as -20°F. Grows 30' tall and 20' wide producing a compact pyramidal-oval crown.
Uses
Bracken Brown Beauty Magnolia has tremendous landscape value and is useful as a single specimen, in groups, or in tall screens and buffers.
Culture
Bracken's Brown Beauty is easy to grow in moist, organically rich, well-drained loams in full sun to part shade. Some afternoon shade is appreciated. Although this cultivar is winter hardy to USDA Zone 5b, it is still probably best sited in a protected location in Zone 5.
---

Helpful Planting & Care Tips Provided By Our Experts...
How To Plant A Tree On A Slope, Hill Or Embankment
How To Stake A Newly Planted Tree
---
See...

Works great with: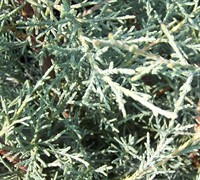 Carolina Sapphire Cypress
$48.97
$38.97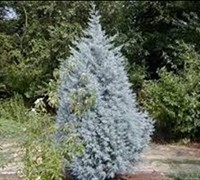 Silver Smoke Arizona Cypress
$54.99
$43.97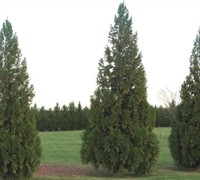 Japanese Cedar
$24.99
$19.97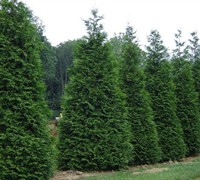 Green Giant Arborvitae
$29.97
$20.97
Bar Harbor Juniper
$24.99
$19.97
New Arrivals at Gardener Direct: