Product Details
Lysimachia Nummularia 'Aurea' is a fast and moderate growing groundcover plant and perennial plant that can be grown in USDA Plant Hardiness Zones 4A through 9B. It matures to an average height of 1 inch to 1 foot and an average width of 2 feet to 3 feet, depending on climate and other environmental factors. It prefers growing in a location that provides full sun, shade, morning sun with afternoon shade, morning shade with afternoon sun or filtered sun and grows best when planted in sand, loam or clay soil that is well drained, moderately drained, moderately wet or consistently wet. The foliage is yellow and chartreuse in color. It attracts visual attention and is resistant to deer, drought, insects, diseases, foot traffic, mildew and heat.

Creeping Jenny can be useful in the landscape along woodland borders, in mass plantings, in foundation plantings, in containers or planters, as a border or edger, around decks, swimming pools, and other outdoor living areas, under a shade tree, as a groundcover, between stepping stones and pavers or as a lawn substitute and also in rock or xeriscape gardens, theme gardens, cottage gardens, perennial gardens or shade gardens.
---
More about Golden Creeping Jenny...
This is another groundcover plant we can't get enough of! We use it extensively in our gardens as a groundcover, border or underplanting for shrubs and trees. The soft vines make Creeping Jenny very easy to keep in bounds. It looks especially nice when planted around plants that have red, burgundy, purple or dark green foliage.
For most of the year the foliage is golden-yellow in color however becomes tinged in orange during the cool season. The plants are fast-spreading and will quickly fill in areas when spaced 24 inches or closer apart.
Creeping Jenny will grow in any average soil and in sun or shade, though we think it stands out more in shade, lighting up shady areas of the garden. It will tolerate damp soil however is quite drought tolerant, only requiring supplemental irrigation during drought.
Helpul Related Articles...
How Many Groundcover Plants Does It Take To Fill A Space Or Area?
How To Measure For Total Square Feet Of A Planting Space Or Area
How To Space And Lay Out Groundcover Plants In A Planting Area
How To Plant Groundcover Plants
How To Select And Plant Creeping Perennials Between Stepping Stones And Pavers
How To Care For Newly Planted Groundcover Plants
---
Works great with:
Bloodgood Japanese Maple
$49.99
$19.97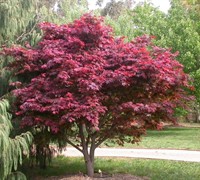 Hefner's Red Select Japanese Maple
$109.99
$89.97
Purple Ghost Japanese Maple
$149.99
$94.97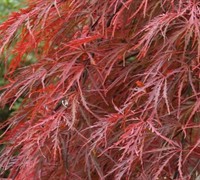 Crimson Queen Japanese Maple
(1)
$113.99
$90.97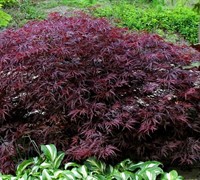 Red Dragon Japanese Maple
$183.99
$149.97
Customer Reviews
(2)
5
out of 5 stars from
2
total reviews
2 reviews
0 reviews
0 reviews
0 reviews
0 reviews
Most Helpful Reviews
Already spreading out!
August 4th 2014
by Cornelius - Tewksbury , Massachusetts
just water it!
Reply from Gardener Direct:
Hi Cornelius - Much appreciation from GardenerDirect for taking the time to provide us and our visitors with your review. We too love the golden creeping jenny and have large patches of it throughout our landscape. It's simply a great groundcover in zoners where it will grow. In our gardens here in Georgia it stays evergreen and does best with some afternoon shade or filtered sunlight. Thanks again and let us know if there's ever anything else we can help you with. We're at your service!
Can't live without it!!!
April 16th 2014
by Sharon - Huntingtown, Maryland
I am currently in the process of "taming" a large woodland garden. Creeping Jenny is my go to plant and this source is one of the best for quality and price I highly recommend this product from this supplier.
New Arrivals at Gardener Direct: