Product Details
More about the Sea Green juniper...
Noteworthy Characteristics
The Sea Green Juniper grows in an upright vase shape with branches that grow up and out to a height of about 6 feet. The sea green color foliage provides a unique texture and contrasts nicely with other plants in the landscape.
Uses
The Sea Green Juniper is most often used as a mid-size natural hedge but can also be trimmed to form a "pompon" topiary that has several arms with balls of foliage at the ends.
Culture & Care Tips
Plant the Sea Green Juniper in locations that provide well-drained soil and plenty of sun. No pruning necessary hoever responds well to shearing for hedges or topiary forms.
---
Helpful Planting & Care Tips Provided By Our Experts...
---
Put Abundant Color in Your Landscape Year Round With...
Works great with: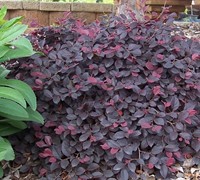 Purple Pixie® Loropetalum
(27)
$31.99
$23.97
New Arrivals at Gardener Direct: