Product Details
---
More about Autumn Twist Encore Azalea...
Noteworthy Characteristics
Perhaps the most unique of the Encore Azalea family, Autumn Twist produces an abundance of large, eye-catching white and purple striped blooms in spring, summer, and fall against dark green foliage. Some blooms may be all purple or all white which provides a multi-color effect. One of the most popular in the series. USDA Zones 6-9.
Uses
With a height of 4.5 feet and spread of 4.5 feet, Autumn Twist is useful in foundation plantings, in small or large groupings in landscape beds, as an informal colorful hedge, or singularly in containers.
Culture & Care
Encore Azaleas prefer a an acid soil that contains plenty of organic matter and is well-drained. Encores will tolerate all-day full sun however will also tolerate some shade. Too much shade and flowering will be diminished. 5 hours or more of direct sun per day is recommended. A light pruning and feeding after the first bloom phase can help stimulate new growth and encourage heavier bud development.
---
---
With Flowering Shrubs You Can Have Year Round Color!
---
Works great with: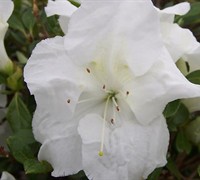 Autumn Angel Encore Azalea
(9)
$29.99
$19.97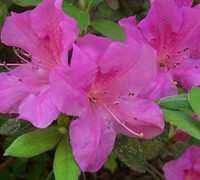 Autumn Amethyst Encore Azalea
$29.99
$19.97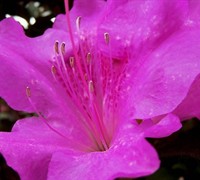 Autumn Royalty Encore Azalea
(3)
$29.99
$19.97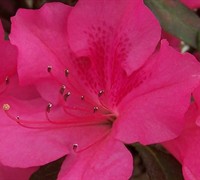 Autumn Sangria Encore Azalea
(2)
$29.99
$19.97
Customer Reviews
(7)
4.71
out of 5 stars from
7
total reviews
5 reviews
2 reviews
0 reviews
0 reviews
0 reviews
Most Helpful Reviews
Autumn Twist Encore Azalea - 3 gallon
June 6th 2014
by Susan - Lower Burrell, Pennsylvania
I could not find any Encore Azaleas for sale anywhere near where I live - so I went online and found this one for sale by GardenDirect. Before ordering, I called GardenDirect for more information about these bushes - and asked if it will survive in the climate where I live - Southwest Pennsylvania. I was told that since we have very cold winters, I will need to protect it during the winter months - at least for the first few years until it is well established. The Encore Azalea arrived at my house in absolutely perfect condition - unbelievable! I planted it as directed - and it looks gorgeous. Thank you so much. Susan Kier
Reply from Gardener Direct:
Hi Susan - Thanks so much for your feedback and we are glad to hear you are happy with the azaleas! This past winter (2013/2014) was an abnormally cold one with temps that went way below average here in mid Georgia and just about everywhere else in the eastern half of the country. In the event this happens again, it would be a very good idea to take measures to protect azaleas and many other types of plants. We recommend a thick layer of mulch around plants to protect surface roots and wrapping them with dark plastic or blankets if temps are forecast to go below 10 degrees or so. Mulch can be thinned after the severe cold has passed or later on in early spring.
Encore azaleas are all I plant.
April 30th 2014
by Robert - Wilmington, Delaware
I've been growing azaleas for over 50 years. However for the last three years, the only azaleas I have bought are Encores. Except for being favored by deer, they are very hardy, fast-growing with the large flowers that I favor.
excelllent plants!
April 18th 2014
by Marsha - Longview, Texas
These plants were a very good deal for the price. All arrived in superb condition. I have already planted the 4 plants and all are blooming beautifully. The plants I ordered are my favorite variety of encore azaleas. I was so pleased to have found them at such a good price. I heartedly recommend these plants to any interested buyers. Proud gardner in TX.
encore azalea autumn twist
November 21st 2012
by Betty - Tamarac, FL United States
these came in good condition and look very beautiful
Excited to see its blooms!
May 13th 2012
by Judi - Indianapolis, IN United States
What a beautiful possibility with this 'new' color! It arrived in great shape and is growing happily. I'm hoping it will survive our Zone-5-turned-6A winter.
Autumn Twist Encore Azalea
November 30th 2014
by Joseph - Herndon, Virginia
The plant stock was fine. However, it is premature to give it an adulation since it is at best a juvenile. As a mature gardener, I think I can evaluate a plant much more accurately if it has been in my care for several years. We have another clon in our garden that has provided a magnificent second blooming this cycle. Time will tell if it earns a 'I like it' rating.
Reply from Gardener Direct:
Hi Joseph - Thanks so much for taking to the time to provide us with your review. Do keep in touch and let us know how the Autumn Twist Azalea does for you. We have a bed of about 10 of this variety growing in our own gardens for about 6 years now and they are doing great. What's really surprising is that these get almost no direct sunlight during the day...just filtered light through the branches of some riverbirch trees. But they're doing great and we get a very heavy spring bloom and about half that in the late summer into fall. This being said, we also have some Autumn Twist growing in almost full sun and they do equally as well, with a slightly heavier bloom. Let us know if there's ever anything else we can help you with. We're at your service!
Very pretty flowers
June 6th 2014
by Jean - Elmira, New York
The plants came with some broken branches but the over all product was nice and had lots of flowers. Can't wait for the next blooming season. Very pretty.
Reply from Gardener Direct:
Hi Jean - Thanks for your feedback and we are glad to hear the plants were blooming so you could see the pretty, striped flowers! Azaleas are one of those plants with somewhat stiff stems so it's not out of the norm for a few of the smaller twigs to break off during normal shipping and handling. It's a good idea to prune Encore Azaleas lightly after they've finished the spring bloom cycle. This encourages new growth and new flower buds that will open later in the summer and/or fall.
New Arrivals at Gardener Direct: