Product Details
Autumn Royalty Encore Azalea is a moderate growing shrub that can be grown in USDA Plant Hardiness Zones 6A through 6A. It matures to an average height of 4 feet to 5 feet and an average width of 4 feet to 6 feet, depending on climate and other environmental factors. It prefers growing in a location that provides shade and grows best when planted in sand soil that is well drained. In the spring Autumn Royalty Encore Azalea produces purple flowers. The foliage is medium green in color. It attracts butterflies and is resistant to diseases.

Autumn Royalty Encore Azalea can be useful in the landscape along woodland borders and also in rock or xeriscape gardens.

---
More about Autumn Royalty Encore Azalea...
Noteworthy Characteristics
Voted AZALEA OF THE YEAR by the American Rhododendron Society, Autumn Royalty produces an abundance of large, eye-catching rich purple blooms are produced in spring, summer, and fall against dark green foliage. One of the most popular varieties in the series. USDA Zones 6-9.
Uses
With a height of 4.5 feet and spread of 4.5 feet, Autumn Royalty is useful in foundation plantings, in small or large groupings in landscape beds, as an informal colorful hedge, or singularly in containers.
Culture & Care
Encore Azaleas prefer a an acid soil that contains plenty of organic matter and is well-drained. Encores will tolerate all-day full sun however will also tolerate some shade. Too much shade and flowering will be diminished. 5 hours or more of direct sun per day is recommended. A light pruning and feeding after the first bloom phase can help stimulate new growth and encourage heavier bud development.
---
---
With Flowering Shrubs You Can Have Year Round Color!
---

Works great with:
Autumn Angel Encore Azalea
$31.92
$29.97
Autumn Twist Encore Azalea
$46.97
$34.97
Autumn Carnival Encore Azalea
$26.97
$29.97
Autumn Princess Encore Azalea
$31.92
$24.97
Autumn Carnation Encore Azalea
$31.92
$29.97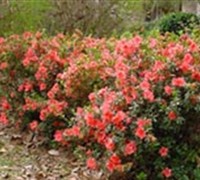 Autumn Coral Encore Azalea
$31.92
$29.97
Customer Reviews
4.6
out of 5 stars from
5
total customer reviews
3 reviews
2 reviews
0 reviews
0 reviews
0 reviews
Most Helpful Reviews
Beautiful plants
November 8th 2015
by Jen - Warner Robins, GA
Plants arrived in nice condition and looking beautiful! Really liked how easy it was to order from the website, i don't always have the time to drive to a nursery and this makes it so easy to get the plants i want!
Love it!!!!
March 11th 2015
by Cora - Florence, SC
Wow, what a stunning plant! The flowers could't be more beautiful!! My favorite plant i have ever gotten and i am buying more from you today!
Reply from Gardener Direct:
Hi Cora,Thank you for taking the time to share experience with us at To Go Garden! We are so thrilled to hear that you love your Encore Azaleas! They are truly beautiful plants! Please let us know if there is anything we can do for you in the future! Enjoy your new Azaleas!
Thanks!!
July 2nd 2013
by Charlene - Bee Cave, TX
Thanks for my Encore Azalea! I had accidentally ordered the wrong plant so i called right away and customer service was so great about helping me change my order, said it was no problem! Received my plants a few days later and they looked great! Thank you so much!
Encore Azalea
May 18th 2012
by Christie - Fort Worth, TX
received plants fast and in great condition, you wouldn't know they had been shipped in a box! I planted them in my front yard and they look just beautiful!
Very happy
April 10th 2012
by Tina - St Augustine, Fl
Very happy with my purchase! My Azaleas arrived fast and in perfect condition. Loving the flowers!
New Arrivals at Gardener Direct: