Product Details

More about Blue Ice Cypress...
Noteworthy Characteristics
The Blue Ice Cypress is one of the most eyecatching plants in our nursery, and in our gardens. It grows exceptionally fast to about 20 to 30 feet in height with a spread of about 10 to 15 feet at maturity. The outstanding light, silver-blue foliage provides a wonderful contrast in the landscape. The foliage color and texture is so unique that it contrasts nicely with just about any other plant nearby.
Uses
The Blue Ice Cypress is perfect planted in straight or cirved staggered rows to create a beautiful visual and sound buffer. It also makes an outstanding specimen and lends itself well to shearing as an outdoor Christmas tree.
Culture
Blue Ice Cypress is easy to grow in well-drained soils and full sun or light shade. It isn't fussy about soil type even growing in dense clay. No pruning is required unless you want to shear it for a more formal shape. Feed in spring with a well-balanced shrub and tree type fertilizer.
---
Helpful Planting & Care Tips Provided By Our Experts...
How To Plant A Tree On A Slope, Hill Or Embankment
How To Stake A Newly Planted Tree
---
See...
---
Works great with: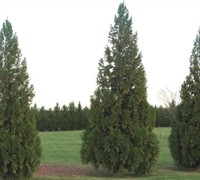 Radicans Japanese Cedar - Cryptomeria japonica 'Radicans'
(2)
$29.99
$21.97
Oakland™ Holly
$499.99
$39.97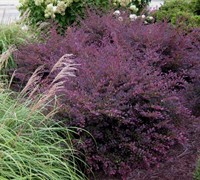 Purple Diamond® Loropetalum
(6)
$32.99
$23.97
Customer Reviews
(2)
4.5
out of 5 stars from
2
total reviews
1 reviews
1 reviews
0 reviews
0 reviews
0 reviews
Most Helpful Reviews
Very Pleased
May 25th 2015
by Carrie - Grand Prairie, Texas
I purchased two of the 3 gallon Blue Ice Cypress trees. They arrived in great condition and have already grown 4 inches in under two months. The color is beautiful. So far, very good!
Reply from Gardener Direct:
Hi Carrie - Thanks so much for taking the time to provide us and visitors to Gardener Direct with your review! We're very happy to hear that you were pleased with the quality of the Blue Ice Cypress trees and that they're healthy and growing good for you. We love this selection and have several specimens planted in our own gardens. The blue foliage glows in the landscape:-) Let us know if there's ever anything else we can help you with. We're at your service!
Blue Ice Cypress
December 16th 2012
by Mary - West Chester, PA United States
It arrived in very good shape, although the container was split open. I was very pleased to be able to locate on at GD when there were none to be found locally.
New Arrivals at Gardener Direct: