Product Details
---
More about Blue Satin Hibiscus
Noteworthy Characteristics
Blue Satin is the best, strongest growing, blue variety of Rose of Sharon we've come across. It has performed very well in our trial gardens here in Zone 8a of mid-Georgia. Much better than 'Blue Bird', which turned out to be quite the weakling. An abundance of large, true-blue flowers are produced during the summer. If you love blue flowers, Blue Satin Rose of Sharon is sure to please!
Uses
Rose of Sharon are most useful in the landscape as a single specimen however can be planted in straight or curved rows to form a hedge. They can also be useful in groupings, flowering shrub borders, as a small tree accent in home foundation plantings, butterfly gardens, hummingbird gardens and cottage gardens.
Culture & Care
Rose of Sharon are easy to grow preferring a well-drained moist soil and planty of sunshine. Some shade will be tolerated but flowering won't be as heavy. Mainentance is minimal requiring little or no pruning. Drought tolerant after established.
---
Helpful Planting & Care Tips Provided By Our Experts...
---
Put Abundant Color in Your Landscape Year Round With...
---

---

Works great with: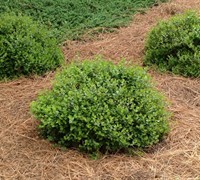 Rose Creek Dwarf Abelia
$46.97
$41.97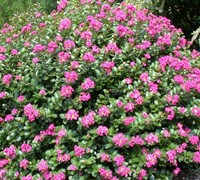 Pocomoke Dwarf Crape Myrtle
$57.97
$44.97
Bar Harbor Juniper
$24.99
$19.97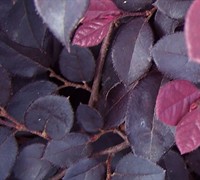 Purple Pixie Loropetalum
$48.97
$34.97
Customer Reviews
5
out of 5 stars from
1
total customer reviews
1 reviews
0 reviews
0 reviews
0 reviews
0 reviews
Most Helpful Reviews
Thanks!!
May 22nd 2014
by Melissa - Knoxville, Tn
Glad i found togogarden! Had so much trouble finding theses in my area. Plants arrived on time and in great shape! Thank you!!
New Arrivals at Gardener Direct: