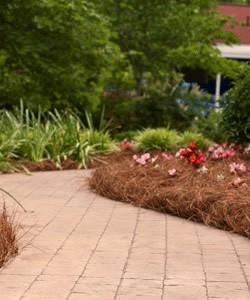 Pine straw is an organic mulch with plenty to offer gardeners looking for a mulch that keeps down weeds, retains moisture, looks natural and won't break your back installing it. It is an environmentally friendly product that breaks down slowly into rich organic matter that improves the soil and feeds your plants!
What is long leaf pine straw?
There are basically two types of pine straw mulch available on the market: long leaf and short leaf. Long leaf is by far the highest quality. It comes from the southern longleaf pine tree. Its needles are much longer (12-16 inches long), much brighter in color (orange-bronze instead of brownish-grey), and contain more resin. The resin helps long leaf straw to hold its color bright color 5 times longer, reduces decomposition, and "tucks" better.
Bale size
Our long leaf pine straw bales are 28 inches long x 14 inches wide x 12 inches height.
NOTE: We hand bale our pine straw so that needles are not broken or shredded to pieces as are machine baled bales.

Spreading the straw
To spread the pine straw, start by removing the strings from the bale. The pine straw is usually hand-baled and will be packed in compressed layers. Seperate these layers and spread them one at a time over an area. Spread a light coat of straw about a foot outside the area for "tucking" purposes described further below. For a nice, smooth appearance, make sure to really shake the straw out good.
If covering bare dirt, you'll want to spread the straw at 2 to 4 inches thick to build up a good base. If you've already got a good base of mulch on the ground, spread a thin layer just to freshen things up.
Coverage: Depending on how thick you spread it, a bale of long needle pine straw will cover from 40 to 80 square feet of area.
NOTE: To avoid injury to pets and wildlife, make sure to cut all the strings in half and place them in a trash bag.
Tucking the straw
To get that "fluffed up" look, after spreading you'll want to tuck it around the borders. As mentioned above, make sure to spread a thin layer of straw about 1 foot outside your borders. Then standing inside the landsacape border, use a leaf rake to pull the pine straw that you spread outside of the border towards the border. This will give you that fluffed up, "raised bed" look. If you're really the perfectionist, you can use a hard rake oir your hand to put some finishing touches on the tuck. Working from the outside of the border, use the hard rake or your hand to push and tuck any straggler needles to the border. Alternatively, you can use a leaf blower or showel to tuck pine straw, but we've found that rakes are most efficient.
Need Bulk Quantities of Long Leaf Needle Pine Straw?
Gardener Direct can ship up to 1,400 bale semi-trailer truck loads anywhere in the United States!
Call Us For Quote! (770) 573-1778