Product Details
Ligustrum Japonicum 'Howardi' is a fast growing shrub that can be grown in USDA Plant Hardiness Zones 5A through 5A. It matures to an average height of 5 feet to 6 feet and an average width of 3 feet to 4 feet, depending on climate and other environmental factors. It prefers growing in a location that provides full sun and grows best when planted in sand soil that is well drained. In the spring Golden Ligustrum produces white flowers. The foliage is yellow in color. It attracts visual attention and is resistant to deer. If you like fragrance, Ligustrum Japonicum 'Howardi' has fragrant flowers.

Golden Ligustrum can be useful in the landscape in mass plantings and also in theme gardens.
More about the Howardi Golden Ligustrum...
Noteworthy Characteristics
Howardi Golden Ligustrum is a tough and adaptable fast-growing evergreen shrub which makes an excellent hedge or small tree. Fragrant white flowers are produced in spring, however the real appeal to this plants appearance is the outstanding, golden-yellow and green variegated foliage. Can be left to grow naturally to 10 feet or so in height or responds very good to pruning for a more formal hedge that can be maintained at 5 feet or more in height. It can also be "limbed up" to form a very pretty small tree.
Uses
With an upright, broad and bushy form, Howardi Golden ligustrum makes a great mid-size hedge, and looks equally nice by itself as an accent planting in foundation plantings or landscape beds and islands. The bright foliage contrasts nicely with other shrubs that have purple, red, or dark green foliage.
Culture & Care Tips
Howardi Golden ligustrum is easy to grow in a variety of soils provided they are well-drained. Coloration is best in full to mostly sun. Very disease resistant. No pruning necessary howebver can be pruned as a formal hedge or small tree.
---

Helpful Planting & Care Tips Provided By Our Experts...
---
Put Abundant Color in Your Landscape Year Round With...

Works great with: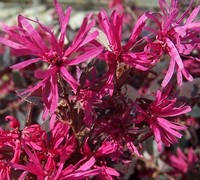 Purple Diamond Loropetalum
$44.99
$39.97
Parsoni Juniper - Juniperus davurica 'Parsonii'
$29.99
$19.97
Bordeaux Dwarf Yaupon Holly
$27.97
$19.97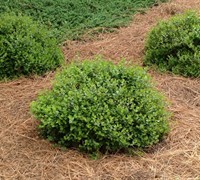 Rose Creek Dwarf Abelia
$46.97
$41.97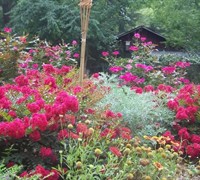 Razzle Dazzle Cherry Dwarf Crape Myrtle
$62.97
$44.97
Customer Reviews
5
out of 5 stars from
1
total customer reviews
1 reviews
0 reviews
0 reviews
0 reviews
0 reviews
Most Helpful Reviews
What a surprise.
May 3rd 2014
by Karen - Firth, Idaho
I was expecting a half dead stick and ended up with two beautiful vicary plants. Was so impressed that I ordered more of the vicaries and other plants.
New Arrivals at Gardener Direct: