Ruscus Bamboo is a fast and moderate growing shrub that can be grown in USDA Plant Hardiness Zones 6B through 11. It matures to an average height of 5 feet to 8 feet and an average width of 3 feet to 4 feet, depending on climate and other environmental factors. It prefers growing in a location that provides full sun, morning sun with afternoon shade, morning shade with afternoon sun or filtered sun and grows best when planted in loam, clay or silt soil that is well drained. The foliage is medium green in color.

Ruscus Bamboo can be useful in the landscape along woodland borders, in mass plantings, in foundation plantings, in containers or planters, in shrub borders, in landscape beds or islands or as a hedge and also in theme gardens.
More About Ruscus Bamboo...

Type: Shrub
USDA Zones: 6-10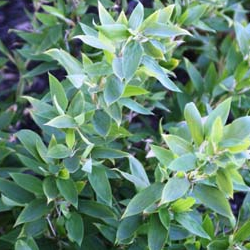 Ruscus bamboo is a unique type known for its distinctive dwarf clump-forming habit with slightly wavy, slender canes and short, wide, dark-green leaves. It's a great selection for use in the landscape a a low to mid size hedge. We use it even in home foundation plantings where it provides a unique texture that contrasts nicely with other plants around it.
In colder climates it tends to grow taller providing a screen in the 6 to 8 foot height range but can be trimmed to any desired height. It will tolerate sun but we grow it in partially shaded sites in our gardens that have acidic soil, which keeps the foliage nice and green. It doesn't seem to like alkaline or constantly soggy soil at all.
---
Helpful Related Articles Provided by Our Experts...
How To Fertilize and Water Bamboo Plants
---
See Other Types of Bamboo...