Bamboo Plants - Giant / Timber
---
Black Stripe Bamboo
In Stock
Full Sun or Part Shade / Up to 54' / Black stripes on grey-green canes on this very beautiful timber bambo. / USDA Zones: 6B-...
$78.99
$69.97
Henon Giant Gray Bamboo
In Stock
Sun or Shade / 30-60'H x 5"W / Handsome and attractive gray color with age! / USDA Zones: 6-11
$94.99
$84.97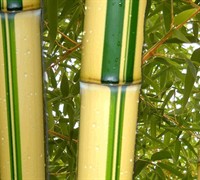 Green Stripe Vivax Giant Timber Bamboo
In Stock
Full to Mostly Sun / Up to 70' / A spectacular rare variety and the most cold hardy timber bamboo! / USDA Zones: 6A-11
$67.99
$54.97
You may also be interested in...
New Arrivals at Gardener Direct: