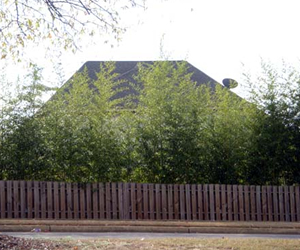 Description
Henon Giant Gray is a great bamboo for use as a medium to tall screen. Hailing from Guangdong Sichuan, China this cold hardy giant has very erect canes. Its new olive green canes turn to a handsome and attractive gray color with age. The culm sheath have wavy blades with prominent oral setae, auricles and ligules. Henon Giant Gray has other great attributes as well. It will grow great in shaded sites with poor soil and watering and is known for its drought tolerance once established. It is adaptable to most all planting sites. The wood is of high quality and used by many craftsmen. This is one giant and impressive bamboo!
Giant gray is used in many commercial applications because of it striking appearance and low maintenance requirements. It is a spreading bamboo. If needed, root pruning, a Bamboo Root Barrier or growing plants in above- or below-ground containers are methods to control spread.
Gardener Direct carries Bamboo fertilizer and planting soil containing Biochar, a highly porous material that allows for long term water and nutrient holding capabilities.
---
Uses
Containers/Pots: Good
Crafts: Good
Edible: Good
Hedge: Good
Indoor: 6 hours min. sun
Ornamental: Good
Privacy Screen: Excellent
Specimen: In containers
Wood Quality: Good
*Other Special Notes: Beautiful dense foliage
Details
USDA Cold Hardiness Zones: 6A-11
Type: Running
Height: 50-70'
Spread: 5'+ without control
Culm Diameter: 4 1/2"
Sun: Full Sun or Part Shade
Soil: Well drained
Growth Rate: Fast

---
Helpful Related Articles Provided by Our Experts...
How To Fertilize and Water Bamboo Plants
---