Product Details
Pocomoke Dwarf Crape Myrtle is a moderate growing shrub that can be grown in USDA Plant Hardiness Zones 6A through 6A. It matures to an average height of 1 foot to 2 feet and an average width of 2 feet to 3 feet, depending on climate and other environmental factors. It prefers growing in a location that provides full sun and grows best when planted in sand soil that is well drained. In the summer Pocomoke Dwarf Crape Myrtle produces pink flowers. The foliage is dark green in color. It attracts visual attention and is resistant to deer.

Pocomoke Dwarf Crape Myrtle can be useful in the landscape in mass plantings and also in rock or xeriscape gardens.

More about Pocomoke Dwarf Crape Myrtle...
Noteworthy Characteristics
Of all the dwarf crape myrtles planted in our gardens Pocomoke is the most dwarf, growing in a low mounding form to only 20 inches in height with a spread of about 3 feet. Released by the U.S. National Arboretum in 1998, this Fauriei Hybrid cultivar features deep rose-pink flowers from mid to late summer.
Uses
Ideally suited for residential settings, Pocomoke can be included in large mass plantings or in small groups to create a low-growing hedge. It also fits nicely in container gardens.
If seasonal color and a low-growing mature height are important to you, Pocomoke Dwarf Crape Myrtle is the showstopper plant for your garden!
About Fauriei Hybrid Crape Myrtles
In 1959, Dr. Donald Egolf began a crapemyrtle research project at the U.S. National Arboretum to develop crape myrtles that were disease resistant, hardy, true to flower color, and that would repeat bloom.
Germplasm of Lagerstroemia fauriei was collected in Japan by Dr. John Creech and distributed to the U.S. National Arboretum. This material was discovered to be resistant to powdery mildew; a disease known to inflict many varieties of crape myrtle, and to possess a unique, heritable, dark brown trunk color. L. fauriei was incorporated into the research program with great success. Since then, twenty "Fauriei Hybrid" crapemyrtle cultivars have been released!
The successful hybridization of Lagerstroemia indica with Lagerstroemia fauriei revolutionized the development of crapemyrtle. In addition to field resistance to powdery mildew, the hybrids provide new trunk colors that in the future may be sought as much as the brilliant flowers.
Helpful Related Articles
How To Prune A Dwarf Crape Myrtle Bush
How To Plant a Shrub in a Container or Pot
How To Fertilize A Crape Myrtle

Works great with: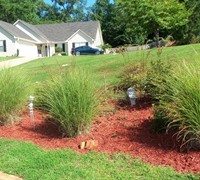 Maiden Grass - Miscanthus sinensis 'Gracillimus'
$27.97
$19.97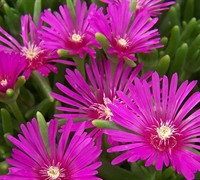 Delosperma cooperi - Purple Hardy Ice Plant
$24.99
$19.97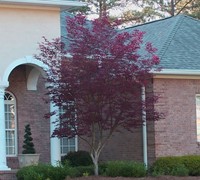 Bloodgood Japanese Maple
$123.97
$87.97
Blue Rug Juniper
$29.99
$19.97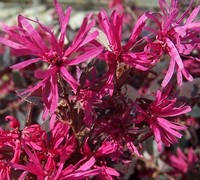 Purple Diamond Loropetalum
$44.99
$39.97
Customer Reviews
4.9
out of 5 stars from
10
total customer reviews
9 reviews
1 reviews
0 reviews
0 reviews
0 reviews
Most Helpful Reviews
Pocomoke Dwarf Crape Myrtle Customer Review
November 5th 2014
by Kevin - Charlottesville, VA
Shipped fast. Plants are healthy and green. Top notch quality and packing.
Pocomoke Dwarf Crape Myrtle
September 18th 2014
by Gwyn - Albany, GA
Gorgeous Crape Myrtle! I was so wowed by how healthy it was and that it had new growth! Great size and packing as well. I plant on planting it tomorrow. I am so excited!! Thank you ToGoGarden.com for my beautiful plants and i look forward to it growing in my yard!
Pocomoke Dwarf Crape Myrtle Customer Review
July 10th 2013
by Harry - Kitty Hawk, NC
Great Crape Myrtle i have several my yard but of a different variety. My plants arrived healthy and beautiful. Pleased with how fast it shipped. Very satisfied with order.
Excellent
June 8th 2013
by Emily - Rockville, MD
Plants shipped fast and arrived in just days. They are very healthy. Thank you.
Pocomoke Dwarf Crape Myrtle Customer Review
April 17th 2013
by Deanna - Oklahoma City, OK
I looked all over my area to find these and couldn't. So glad togogarden.com had them! They arrived in great condition and securely packed - no damage! Looking forward to it growing! Thanks for a healthy plant and great service!
Pocomoke Dwarf Crape Myrtle Customer Review
April 13th 2013
by Josh - Durham, NC
I received my plants pretty quick and they are all in great shape. I will order more in the future.
Pocomoke Dwarf Crape Myrtle Customer Review
July 4th 2012
by Jamie - Wichita Falls, TX
Plants arrived in great condition and on time. They look great.Thank you very much.
Pocomoke Dwarf Crape Myrtle Customer Review
May 14th 2012
by Kelly - Lubbock, TX
My crape myrtle arrived well packed and very healthy looking just as described. Very happy the my experience and i plan on doing more business with you in the future. Thanks!
Pocomoke Dwarf Crape Myrtle Customer Review
May 1st 2012
by Bobby - Murfreesboro, TN
My plants arrived without a bit of damage, great job! They are planted and growing very well!
Great so far
July 7th 2015
by Jenny - Springfield, MS
My Crape Myrtle arrived in great shape. Nice and healthy. Doing great in the garden so far.
New Arrivals at Gardener Direct: