Product Details
Vaccinium Ashei 'Brightwell' is a fast growing shrub that can be grown in USDA Plant Hardiness Zones 6B through 6B. It matures to an average height of 5 feet to 6 feet and an average width of 4 feet to 6 feet, depending on climate and other environmental factors. It prefers growing in a location that provides full sun and grows best when planted in sand soil that is well drained. In the spring Brightwell Rabbiteye Blueberry produces white flowers. The foliage is blue green in color. It attracts wildlife and is resistant to drought.

Brightwell Rabbiteye Blueberry can be useful in the landscape in shrub borders and also in cottage gardens.
---
Having trouble choosing the right varieties of Blueberry plants?
This is the fun part! There are lots of Blueberry varieties to choose from - each offering fruit with its own, truly unique attributes. Among these are: Size, Color, Flavor, Ripening Time, Required Chilling Hours, Companion Pollinators, and more. Why not plant an assortment of Early-Mid-Late season varieties, and extend your blueberry harvest season? With just a little homework, you can select the perfect blueberry varieties for your garden - click the link below to use the Blueberry Variety Information Sheet to help make your selections.
'Click' here to see our 'Blueberry Variety Information Sheet' and select the most well-suited Rabbiteye varieties for your garden >>
---
More about 'Brightwell' Rabbiteye Blueberry...
A 1983, University of Georgia release, Brightwell Rabbiteye is named after esteemed UGA blueberry developer, Dr. James Brightwell, and is considered by many among the top varieties in the world! Best known for its reliability and its long, sustained harvest period (~ 35 days), Brightwell is ideal for almost any planting application. It has very vigorous, upright growth - and because it flowers late, it is highly resistant to freeze damage. Brightwell is a heavy producer of medium size berries, with excellent flavor, and dry stem scar. It is also known for its very firm, uniformly round berries - a favorite for mechanical harvesting/commercial processing.
Chilling Hours Required: 'Click' here to see the 'Chill Hours' required for this and other blueberry varieties >>
Pollinators: 'Click' here to see ideal companion 'Pollinators' for this and other blueberry varieties >>


---
Helpful Planting And Care Tips Provided by Our Experts:
How To Plant A Rabbiteye Blueberry Bush
How To Fertilize A Rabbiteye Blueberry Bush
How To Prune A Rabbiteye Blueberry Bush

Works great with:
Heritage Raspberry
$25.99
$19.97
Chicago Cold Hardy Fig
$29.99
$21.97
Apache Thornless Blackberry
$24.99
$19.97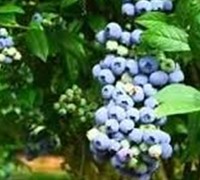 Tifblue Rabbiteye Blueberry
$24.99
$19.97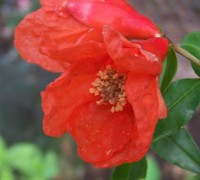 Russian 26 Cold Hardy Pomegranate
$34.99
$24.97
New Arrivals at Gardener Direct: