Product Details
More about Hilda Niblet Azalea...
Noteworthy Characteristics
Named PLANT OF THE YEAR by the American Rhododendron Society in 2005! Hilda Niblett produces some of the most exciting, eyecatching flowers of any azalea. Large flowers in various shades and overtones of light pink to peachy pink are produced over a long bloom period from early spring to early summer. A low growing azalea with a spreading, mounding habit and deep green foliage.
Uses
Hilda Niblet is excellent for use in small to large groupings in landscape beds and islands or as an accent in smaller gardens or medium to large containers.
Culture & Care Tips
Azaleas prefer a well draining, moist and acidic soil rich in organic matter. With the exception of Southern Indica and Encore Azaleas, most azaleas prefer some shade or filtered sun during the hottest part of the day. Follow the links below for expert planting and care tips.
---

Helpful Planting & Care Tips Provided By Our Experts...
How To Plant An Azalea Shrub
How To Prune Evergreen Azalea Shrubs
How To Fertilize And Water Azalea Shrubs
---
Put Abundant Color in Your Landscape Year Round With...

Works great with:
Autumn Angel Encore Azalea
$31.92
$29.97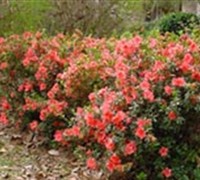 Autumn Coral Encore Azalea
$31.92
$29.97
Customer Reviews
4.78
out of 5 stars from
9
total customer reviews
7 reviews
2 reviews
0 reviews
0 reviews
0 reviews
Most Helpful Reviews
Quality plants!
April 28th 2016
by Gary - Albany, NY
I am very pleased with my plants. I've ordered through other websites before and received undersized plants. The Azaleas i ordered from ToGoGarden.com were very healthy, lush and a nice size! PLants were packed secure too. Will order again!
Reply from Gardener Direct:
Hi Gary, Thank you so much for your kind words and for sharing your experience with us at ToGoGarden.com. We are so happy to hear that your plants arrived healthy - We put care into each order we ship and pride ourselves on only selling healthy, top quality plants. Please let us know if there is ever anything we can do for you! Enjoy your new plants!
Excellent quality at a great price
April 23rd 2016
by Molly - Greensboro, NC
Couldn't find the Hilda Niblett Azalea anywhere locally, searched all over! I was so happy when i stumbled upon them on ToGoGarden.com! They are such beautiful plants, the flowers and the color are gorgeous! My plants arrived without a hitch and looking very healthy! So impressed with quality! I am a happy gardener!
Hilda Niblett Azalea Customer Review
March 9th 2016
by Krystal - Huntsville, AL
Very happy with experience! Plants arrived fast and in perfect condition! Thank you!!
Hilda Niblett Azalea
June 22nd 2015
by Celeste - Baltimore, MD
Azaleas arrived in excellent condition and fast! Love the color! I will order from togogarden.com again recommend you to my friends!
Hilda Niblett Azalea
June 10th 2015
by Savannah - Gainesville, GA
Azaleas shipped fast and arrived healthy. They bloomed right after planting and are just beautiful! What great color! Loving the blooms! Just hope the deer can stay away!
Beautiful!!
May 28th 2013
by Priscilla - Austin, TX
Such a beautiful plant! I adore my Azaleas, great color and they are perfect for my woodland garden!Thank you!
Great job!
March 22nd 2013
by Jill - Myrtle Beach, SC
My plants arrived very quickly and were very well packaged, impressed with the size and how healthy they were! I am very happy with my purchase!!
Hilda Niblett Azalea
June 1st 2015
by Bailey - Helen, GA
beautiful azaleas. packed securely and arrived in good time looking very nice. happy with the size and quality. the wife and i are enjoying them in the garden.
Hilda Niblett Azalea
July 19th 2012
by Jim - Lexington, KY
Great plants with good color. Ordered a few of them and all seem to be doing good! Thank you.
New Arrivals at Gardener Direct: