Product Details

More about the Fall In Love™ Gardenia
You'll fall in love with this new hardy Gardenia!
Gardener Direct is excited to introduce the Fall In Love™ Hardy Gardenia, another fabulous new introduction plant from Wilson Bros Nursery in Georgia.
So, where do we start with the description of this plant? With all the outstanding attributes of the Fall In Love™ Gardenia, it's hard to decide.
Okay, so let's start with the name: 'Fall In Love.' There's a two-fold meaning here. Aside from the fact that you'll "fall in love" with the highly fragrant, double flowers and the lustrous, large, dark green leaves of this handsome dense shrub, when grown in containers this gardenia will bloom in both Spring and "Fall." Hence the name!
How To Plant a Shrub in a Container or Pot
Fall In Love™ Gardenia has an exceptionally long flowering period. Depending on the weather, the ones we have growing in our trial gardens begin blooming sometime in late May or early June, repeating into mid-Summer. But here's the coolest thing: the one we have growing in a large container blooms again in fall! We're not sure, but think this has to do with soil temperatures? When growing in a container the roots are exposed to the warmer air temperatures, promoting the fall flush of flowers.
Hardiness is unrivaled among Gardenias. The Fall In Love™ Gardenia we've had growing in the large container for 6 years has sailed right through the coldest winters with little to no cold damage or fading of foliage. The leaves remain dark green and lustrous year round. Of course, we do have them planted in acidic soil, which is important with gardenia.
The Fall In Love™ Gardenia we have planted in garden beds has grown to about 4 feet tall by 4 to 5 feet wide in 6 years time. The one in the large container is a little smaller. The shrubs are dense with a rounded, mounding form. The lustrous leaves are large and provide a tropical look in the garden.
The dense form and attractive evergreen foliage makes the Fall In Love™ Gardenia the perfect choice for a natural hedge, grouped together in garden beds, and we have no problem recommending this variety as a foundation plant, where long-term hardiness is always a concern. When using I foundation plantings, we recommend planting gardenia on the east side of the home.
Make sure to plant these fragrant wonders near outdoor sitting areas or open windows near the home where the fragrance can be enjoyed. What do the flowers smell like? Words simply can't describe the cloud of intoxicating perfume of Fall In Love Gardenia flowers. One thing for sure, if there were other plants that produces flowers that smelled like gardenias, they'd be a rage among gardeners as well.
We recommend planting Gardenia in well-drained but moist soil. Constantly soggy or wet soils could cause problems. Also, a break from the hot, mid- afternoon sun is usually beneficial for Gardenias. In our gardens we plant Gardenias where they will receive morning to early afternoon sun with mid-afternoon shade or filtered sun. Late afternoon and evening sun is okay.
NOTE: Soil pH is important as well. Gardenias prefer an acid soil ranging from 4.5 to 6.0. If your soil is alkaline foliage will turn pale-green to yellow and blooming can and often will be seriously diminished. Apply chelated iron or soil sulfur to correct chlorosis.

Works great with: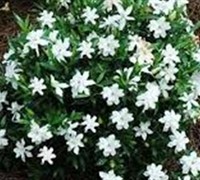 Creeping Dwarf Gardenia
$48.97
$43.97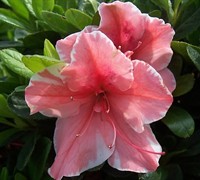 Autumn Sunburst Encore Azalea
$31.92
$29.97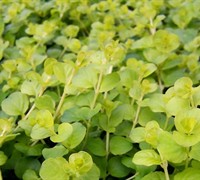 Aurea Golden Creeping Jenny
$29.99
$24.97
Customer Reviews
5
out of 5 stars from
1
total customer reviews
1 reviews
0 reviews
0 reviews
0 reviews
0 reviews
Most Helpful Reviews
Very healthy Gardenia
August 8th 2014
by Robert - Spring Valley, New York
I'm always surprised by the unusually healthy and vigorous condition of the plants that arrive from Gardener's Direct and this Gardenia is no exception. It arrived in such fine condition that it appeared to have just been selected from your greenhouse. How it endures the shipment this way is a mystery top me, but it is a tribute to the fine product handling that is provided without fail from your fine nursery. The plant is growing well in a new clay pot up here in New York and I can't wait to experience the blooms. I never have much luck with Gardenias, but this particular example shows none of the yellowing leaves that I usually have to deal with, so I'm very optimistic.
Reply from Gardener Direct:
Hi Robert - Thanks so much for your kind review. It certainly makes everything we do to provide our customers with the highest quality plants and service even more worth the while. Out of all the Gardenia varieties we offer, 'Fall In Love' has demonstrated the best cold hardiness. Our original plant has survived outdoors in a 15 gallon size container since 2006, breezing through 5 degree F temperatures with no leaf discoloration or any other damage to the plant. Too, the original plant blooms in both spring and fall. Though most other cultivars don't bloom in fall...even those growing in containers...we think the Fall In Love does so because of the exposure to its roots to air temperatures? The ones we have growing in our gardens blooms heavily in May and then repeats well into mid summer. Because Fall In Love is a new introduction, we would certainly appreciate your keeping us posted as to how it does there in NY. If you leave it outdoors over the winter, and it dies, please let us know and we'll send you a replacement, or any other variety of plant you might want, just for testing it for us. Let us know if there's ever anything else we can help you with.
New Arrivals at Gardener Direct: