Product Details
Cupressus Glabra 'Blue Ice' is a fast growing tree that can be grown in USDA Plant Hardiness Zones 7A through 7A. It matures to an average height of 15 feet to 20 feet and an average width of 8 feet to 10 feet, depending on climate and other environmental factors. It prefers growing in a location that provides full sun and grows best when planted in sand soil that is well drained. The foliage is blue in color. It attracts visual attention and is resistant to deer. If you like fragrance, Cupressus Glabra 'Blue Ice' has fragrant foliage.

Blue Ice Cypress can be useful in the landscape in foundation plantings and also in rock or xeriscape gardens.

More about Blue Ice Cypress...
Noteworthy Characteristics
The Blue Ice Cypress is one of the most eyecatching plants in our nursery, and in our gardens. It grows exceptionally fast to about 20 to 30 feet in height with a spread of about 10 to 15 feet at maturity. The outstanding light, silver-blue foliage provides a wonderful contrast in the landscape. The foliage color and texture is so unique that it contrasts nicely with just about any other plant nearby.
Uses
The Blue Ice Cypress is perfect planted in straight or cirved staggered rows to create a beautiful visual and sound buffer. It also makes an outstanding specimen and lends itself well to shearing as an outdoor Christmas tree.
Culture
Blue Ice Cypress is easy to grow in well-drained soils and full sun or light shade. It isn't fussy about soil type even growing in dense clay. No pruning is required unless you want to shear it for a more formal shape. Feed in spring with a well-balanced shrub and tree type fertilizer.
---
Helpful Planting & Care Tips Provided By Our Experts...
How To Plant A Tree On A Slope, Hill Or Embankment
How To Stake A Newly Planted Tree
---
See...
---


Works great with:
Little Gem Dwarf Southern Magnolia
$88.97
$62.97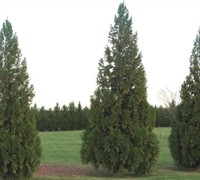 Japanese Cedar
$24.99
$19.97
Oaklandâ"¢ Holly
$54.97
$38.97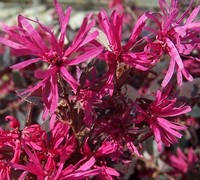 Purple Diamond Loropetalum
$44.99
$39.97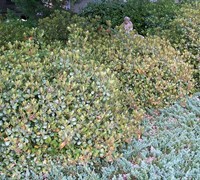 Snow White Indian Hawthorne
$25.97
$17.97
Customer Reviews
4.5
out of 5 stars from
2
total customer reviews
1 reviews
1 reviews
0 reviews
0 reviews
0 reviews
Most Helpful Reviews
Thank you!!
July 19th 2016
by Tim - New Braunfels, TX
Love my Cypress! Ordered 3 for my yard and they all were in great condition when they arrived. They are growing beautifully! Thanks!!!
Blue Ice Cypress
November 21st 2014
by Krista - Charleston, WV
Everything arrived in tip top shape! Plants were healthy! So glad i found these on togogarden.com as no place locally had them. Thanks!
New Arrivals at Gardener Direct: