Product Details
---
More About Blue Star Juniper...
'Blue Star' Juniper is a slow-growing, dwarf evergreen shrub with instense blue foliage and a low-mounded, hemispherical habit. It typically grows to only 1 foot tall after 5 years, but eventually matures over time to 2-3' high and 4-5' wide. It features awl-shaped, spruce-like, silver blue foliage which is attractive year-round. Sometimes commonly called singleseed juniper because each bluish, berry-like, female cone contains but a single seed. This cultivar is a sport of Juniperus squamata 'Meyeri.'
Blue Star is easy to grow in average, medium, well-drained soils in full sun. It is not picky about soil type and is drought tolerant when established. Intolerant of the hot and humid conditions of the Deep South however we've had good success with it here in mid-Georgia.
Can be useful as a groundcover or a specimen shrub or foundation plant. Younger plants are good for the rock garden or may be massed to form a bushy ground cover.
Helpul Related Articles Provided by Our Experts...
How Many Groundcover Plants Does It Take To Fill A Space Or Area?
How To Measure For Total Square Feet Of A Planting Space Or Area
How To Space And Lay Out Groundcover Plants In A Planting Area
How To Plant Groundcover Plants
How To Care For Newly Planted Groundcover Plants
---
Find Just the Right Groundcover for Just the Right Spot

Works great with: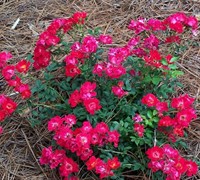 Red Drift Rose
$26.97
$23.97
Crimson Queen Japanese Maple
$113.97
$90.97
Gulf Stream Nandina
$24.99
$19.97
Eleanor Taber Indian Hawthorne
$48.97
$43.97
Customer Reviews
5
out of 5 stars from
1
total customer reviews
1 reviews
0 reviews
0 reviews
0 reviews
0 reviews
Most Helpful Reviews
Beautiful Blue Star Junipers
October 4th 2013
by Frank - Manorville, NY
Thanks! The plants are beautiful!
New Arrivals at Gardener Direct: