Product Details
Cryptomeria Japonica 'Yellow Twig' is a slow growing shrub that can be grown in USDA Plant Hardiness Zones 5A through 5A. It matures to an average height of 5 feet to 6 feet and an average width of 3 feet to 4 feet, depending on climate and other environmental factors. It prefers growing in a location that provides full sun and grows best when planted in sand soil that is well drained. The foliage is light green in color. It attracts visual attention and is resistant to deer.

Yellow Twig Cryptomeria can be useful in the landscape in foundation plantings and also in rock or xeriscape gardens.
More about Yellow Twig Cryptomeria...
Noteworthy Characteristics
To say that this cryptomeria has even a tough of real yellow to the foliage would be stretching the truth. But just because someone named it improperly doesn't mean it's not a great plant! The new twigs of this dwarf Japanese Cedar are brushed VERY lightly with a chartreuse yellow in spring; then they change to and stay bright green the rest of the year, without bronzing in winter. Short, finely textured foliage, gathered randomly in clusters at the crown make a very attractive, upright, pyramidal shrub that makes for a striking focal point. Slow growing.
Uses
Single specimen, accent, shhrub borders, natural hedge, home foundation plantings, container gardens, asian theme gardens, Xeriscape
Culture & Care Tips
Prefers a well-drained soil and full sun to part shade. In the South, a little break from the hot sun during the midafternoon hours of summer might be appreciated No pruning ever necessary. Feed in spring with a well-balanced, slow-release shrub and tree fertilizer. Drought tolerant when established however provide enough water to keep the soil moist but not soggy wet during the first growing season.
---

Helpful Planting & Care Tips Provided By Our Experts...
---
Put Abundant Color in Your Landscape Year Round With...

Works great with: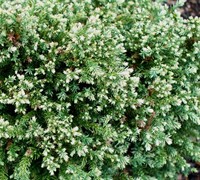 Snow False Sawara Cypress
$34.97
$24.97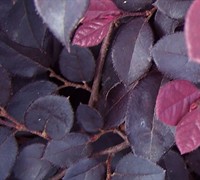 Purple Pixie Loropetalum
$48.97
$34.97
New Arrivals at Gardener Direct: