More about Comtesse de Bouchard Clematis...
Noteworthy Characteristics
This large-flowering hybrid clematis produces an abundance of velvet rose pink flowers with creamy yellow anthers. The 4-6" blooms comes from the current season's growth and appears in a long, continuous, profuse summer display. One of the most popular of the pink clematis and our best seller.
Details
USDA Zones: 4A-9B
Bloom Season: All Summer!
Bloom Color: Velvet Rose-Pink
Bloom Size: 4-6 inch
Bloom Type: Single
Light Requirements: Full Sun or Part Shade
Moisture Requirements: Moist, well-drained
Height: 8-12 feet
Width: 3-6 feet
Habit: Vining
Other Notable Attributes: A profuse bloomer all summer long!
Uses: Arbors & Arches, Fences, Mailbox, Posts, Rails, Tree Climber, Trellises & Partitions
Pruning
Clematis Pruning Group 3
Clematis in Group 3 consist of late-flowering species that bloom from summer into fall. They are easy to prune because you do not need to maintain any old wood. In late winter, cut each stem to a height of 1 or 2 feet above the ground, making sure to leave at least 2 buds. If not pruned, these vines will quickly become a mass of old diseased woody stems producing very few flowers.
Helpful Planting & Care Instructions from Our Experts
How To Plant And Care For Clematis Vines
How To Fertilize And Water Clematis
The Many Uses Of Clematis Vines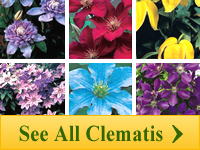 <