Product Details
Gardenia Jasminoides 'Leeone' PP21983' is a fast growing shrub that can be grown in USDA Plant Hardiness Zones 8A through 8A. It matures to an average height of 2 feet to 3 feet and an average width of 2 feet to 3 feet, depending on climate and other environmental factors. It prefers growing in a location that provides full sun and grows best when planted in sand soil that is well drained. In the spring Jubilation Gardenia produces white flowers. The foliage is dark green in color. It attracts butterflies and is resistant to deer. If you like fragrance, Gardenia Jasminoides 'Leeone' PP21983' has fragrant flowers.

Jubilation Gardenia can be useful in the landscape in foundation plantings and also in cottage gardens.

More about Jubilation Gardenia...
Noteworthy Characteristics
From the Southern Living Plant Collection hails the 'Jubilation' Gardenia. It is a charming improvement on a Southern favorite, flowering from spring all the way into fall. It has a compact habit; 3 to 4 feet in height with an equal spread and carries deep green lustrous foliage.
Uses
Jubilation Gardenia a fine selection for foundation plantings or or as a fragrant hedge. Make sure to plant it near windows or outdoor living spaces where the wonderful fragrance can be enjoyed!
Culture
Plant Jubilation Gardenia in locations that provide well-drained soils andpart sun. In our gardens we plant Gardenias where they will receive morning to early afternoon sun with mid-afternoon shade or filtered sun. Late afternoon and evening sun is okay. Gardenias prefer an acid soil ranging from 4.5 to 6.0. Alkaline soil can cause chlorosis and dimished blooming. That being said, yellowing and shedding of older leaves right before or after flowering is normal. To increase soil acidity add soil sulfur, chelated iron and/or aluminum sulfate. Pruning is not required however can be done after bloom to maintain a more dense plant. Ceasing pruning two months prior to the first typical frost date in your area.
---
Helpful Planting & Care Tips Provided By Our Experts...
How To Plant a Shrub in a Container or Pot

---
Check Out These Other Related Shrubs...

Works great with:
Crimson Queen Japanese Maple
$113.97
$90.97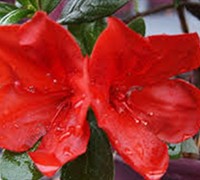 Autumn Bravo Encore Azalea
$31.92
$29.97
Variegated Liriope
$26.97
$18.97
Bordeaux Dwarf Yaupon Holly
$27.97
$19.97
Customer Reviews
4.86
out of 5 stars from
7
total customer reviews
6 reviews
1 reviews
0 reviews
0 reviews
0 reviews
Most Helpful Reviews
VERY Large fully developed Bush
May 6th 2014
by William - Gurnee, Illinois
This gardenia is one of the nicest plant I have ever ordered through mail order.
Gardenia received very full and healthy
July 8th 2012
by Steven - Fort Worth, TX
Gardenia shipped during very hot weather and received in great condition! Gardenia was very full and healthy.
Great plants
August 22nd 2011
by Bruce - OAKLAND PARK, FL
The gardenia plants arrived on time and in great condition.
Looked great!
June 6th 2011
by Sandra - Honey Grove, TX
My gardenias came packaged very well and still moist. The plant looked great and I planted it and it is already blooming. Great Work.
Beautiful plants!
May 11th 2011
by L. - Forest Hills, NY
Received 4 large and beautiful Jubilation Gardenias today. Just finished planting in my garden.
Can't wait to smell them
April 4th 2011
by Amy - MD
I just received a jubilation gardenia. The plant appeared to look very healthy. I love the gardenia, so I can't wait to smell them .
Gardenia looks good
March 10th 2012
by Richard - Manahawkin, NJ
LOOKS IN GOOD SHAPE FROM SHIPPING IN A BOX
New Arrivals at Gardener Direct: