Product Details

More about Catawba Crape Myrtle...
Noteworthy Characteristics
'Catawba' is a Fauriei Hybrid crape myrtle that produces an abundance of large, long-lasting, purple colored flower clusters. It is one of the best purple flowering trees available. It is one of the mid-size crape myrtle trees with excellent form and shape; topping out at 10-12 feet in height with a rounded dome canopy to 10 feet in width. The green foliage has a bronzy cast in spring, bright green leaves in summer, turning orange-red in fall.
A mid size crape myrtle , Catawba is great for use in small groupings or as a single specimen, as a colorful screen or hedge, on the corners to frame in homes and other structures, or planted on both sides of an entryway.
About Fauriei Hybrid Crape Myrtles
In 1959, Dr. Donald Egolf began a crapemyrtle research project at the U.S. National Arboretum to develop crape myrtles that were disease resistant, hardy, true to flower color, and that would repeat bloom.
Germplasm of Lagerstroemia fauriei was collected in Japan by Dr. John Creech and distributed to the U.S. National Arboretum. This material was discovered to be resistant to powdery mildew; a disease known to inflict many varieties of crape myrtle, and to possess a unique, heritable, dark brown trunk color. L. fauriei was incorporated into the research program with great success. Since then, twenty "Fauriei Hybrid" crapemyrtle cultivars have been released!
The successful hybridization of Lagerstroemia indica with Lagerstroemia fauriei revolutionized the development of crapemyrtle. In addition to field resistance to powdery mildew, the hybrids provide new trunk colors that in the future may be sought as much as the brilliant flowers.
Helpful Related Articles
How To Prune A Crape Myrtle Tree
How To Prune A Dwarf Crape Myrtle Bush
How To Plant A Crape Myrtle Tree
How To Fertilize A Crape Myrtle Tree
Choosing The Best Crape Myrtle Tree

Works great with: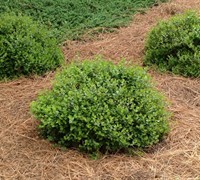 Rose Creek Dwarf Abelia
$46.97
$41.97
Bar Harbor Juniper
$24.99
$19.97
Customer Reviews
4
out of 5 stars from
1
total customer reviews
0 reviews
1 reviews
0 reviews
0 reviews
0 reviews
Most Helpful Reviews
Catawba Crape Myrtle - Lagerstroemia indica x fauriei 'Catawba' Customer Review
May 19th 2015
by Paul - Lincoln, NE
Beautiful Crape Myrtle. It arrived in great shape even though the box was a bit dented but i think that was a Fedex issue. Plants are healthy and looking great where planted! Will order again!
New Arrivals at Gardener Direct: