Product Details
---
More About The Hummingbird Plant...
Hummingbird Plant, Dicliptera suberecta, is one of the few perennials from Uruguay that we stock...makes you wonder what else might be there. This heat and drought tolerant perennial plant produces numerous clusters of electric orange, upright facing, tubular flowers throughout the warm season that the hummingbirds will flock to and appreciate! Equally attractive in the garden are the felty, silver-grey leaves that cover the 2 foot tall by 3 foot wide mound.
The felty silver-grey foliage of the Hummingbird Plant is a wonderful contrast in any sunny to partially shaded garden and is a must in your hummingbird garden! It also works well singly or in combination with other plants in container gardens. It combines wonderfully in the garden or in a large container with Black & Blue Salvia, another top hummingbird attracting plant.
The Hummingbird Plant is very easy to grow. We've successfully grown this plant in both full sun and light shade. Provide it at loeast 5 nhours of sun for best flowering. Well-drained soil is a must. Constantly soggy or wet soils can be problematic. Heavy, dense clay soils should be amended with organic matter and/or sand to improve drainage.
Maintenance is easy as well. Water regularly until established but be careful not to over-water as Dicliptera does not like wet feet. Once established and for best bloom production, fertilize every 6 weeks during the warm season with a good flower food. If plant dies back during winter dead growth may be removed and a light coat of mulch applied.
So far, in our gardens here in Zone 8 of mid-Georgia, we've seen the Hummingbird Plant survive temperatures as low as 15 degrees F. Sources on the internet suggest it to be hardy in Zones 7-10. In zones 7 and 8 it may die back during colder winters to then reemerge strong in spring.
Dicliptera suberecta is a hummingbird's dream come true...If attracting hummingbirds is one of your goals this plant is a must for your garden!
---
Works great with: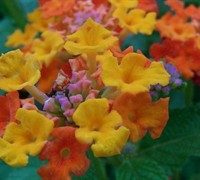 Sonset Hardy Lantana
(9)
$14.99
$10.97
Customer Reviews
(7)
4.57
out of 5 stars from
7
total reviews
5 reviews
1 reviews
1 reviews
0 reviews
0 reviews
Most Helpful Reviews
Yet another cool plant
June 14th 2017
by Gary - Gig Harbor, Washington
The birds just love the sweet treat from this plant.
Reply from Gardener Direct:
Thank you Mr. Berreth for your feedback! We are glad you are enjoying your Hummingbird Plant.
yet another cool plant
June 14th 2017
by Gary - Gig Harbor, Washington
this makes number 5 from your company.
Every garden needs one
April 6th 2016
by Nancy - Stockbridge, Georgia
Hummingbirds and butterflies love it. What more could you ask for. Very easy, pretty plant.
Reply from Gardener Direct:
Hi Nancy - Thanks so much for the review and you're absolutely right...every garden needs a Hummingbird Plant! The flowers are perfectly designed for hummingbirds and butterflies. We've found that Dicliptera is a very hardy perennial and will also scatter a few seeds. The original plant in our gardens has several babies coming up around it this spring. Let us know if there's ever anything else we can help you with. We're always at your service!
Excellent quality!
June 8th 2015
by Stephen - Lilburn, Georgia
Very healthy plants, although the packing of the 4th in with the other 3 led to some broken branches in plants of this size. No problem, the broken branches are rooting in my kitchen bay window right now!
Hummingbird surprise
April 14th 2015
by Martha - Franklin, North Carolina
Arrived in good condition and growing fast. Can hardly wait until it blooms. Had my first Hummingbird of the year Sunday, will he be surprised in a few weeks.
Reply from Gardener Direct:
Hi Martha - Thanks so much for taking the time to provide us and visitors to Gardener Direct with your review. We're happy to hear you were pleased with the Hummingbird Plant. We have several of these plants in our own gardens and the hummingbirds love them! We just saw the first hummingbird of the season in our gardens this past week (4/15/2015). Let us know if there's ever anything else we can help you with. We're at your service!
Good Plants!
August 19th 2012
by - FL
Plants arrived fast and looked good, thanks.
Humming Bird Plant Customer Review
July 10th 2010
by Terri - AL
Shrub arrived fast but was damaged. Gardener Direct fixed the issue quickly. Very good customer service.
New Arrivals at Gardener Direct: