Salvia Guaranitica 'Black And Blue' is a fast growing perennial plant that can be grown in USDA Plant Hardiness Zones 7A through 10A. It matures to an average height of 4 feet to 5 feet and an average width of 3 feet to 4 feet, depending on climate and other environmental factors. It prefers growing in a location that provides full sun and grows best when planted in sand, loam, clay or silt soil that is well drained. In the summer and fall Black And Blue Salvia produces midnight blue flowers. The foliage is dark green in color. It attracts butterflies, hummingbirds and wildlife and is resistant to deer, drought, diseases, foot traffic, mildew and heat.

Black And Blue Salvia can be useful in the landscape along woodland borders, in containers or planters, as a background, in shrub borders, around decks, swimming pools, and other outdoor living areas, in landscape beds or islands or in small groupings and also in cottage gardens, butterfly gardens, hummingbird gardens or perennial gardens.
---
More About Black And Blue Salvia...
If you are looking for a plant that is sure to have hummingbirds flocking to it look no further - Black & Blue Salvia should be at the top of your list!
Salvia Black and Blue, also known as Blue Anise Sage, is a large-growing perennial plant that reaches about 4 to 5 feet in height with an equal width. Perfectly designed for hummingbirds, the tubular deep cobalt-blue flowers, which look like an opened pelicans beak, are produced in abundance from late spring through early winter. This selection of the hardy salvia differs from the norm in that the calyx (the little cup that holds the open flower) is black instead of the usual green! Hence the cultivar name 'Black & Blue'.
A hardy perennial in USDA Zones 7-10A, Black & Blue Salvia can be grown in garden beds or containers. Above Zone 7 it will be an annual. It prefers a moist, well-drained soil and likes full sun to partial shade. Flowering will be heavier with more sun. It is more drought tolerant when growing in the ground. Plants in containers will require more attention to watering during the hot summer months.
If you are looking for other great hummingbird plants check out Madame Galen Trumpet Vine (Campsis), Hummingbird Plant (Dicliptera suberecta), and Hot Lips Saliva.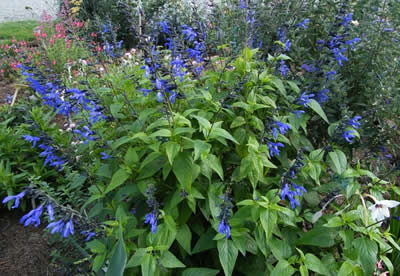 Black & Blue Salvia is a must-have plant in hummingbird and butterfly gardens and container plantings!
---
Helpful Related Articles Provided by Our Experts
See Other...