Product Details

More about Chinese Snowball Bush
Noteworthy Characteristics
There simply aren't too many flowering shrubs that rival the Chinese Snowball Viburnum when in full bloom. In spring, Snowball Viburnum produces an abundance of giant, snowball-like, white flower clusters that are 6 to 8 inches in diameter! The flower clusters nearly cover all the branches on this shrub or small tree which grows 10 to 15' tall with an equal spread. Flowers are useful both fresh or dried in bouquets. The Chinese Snowball Viburnum is a Georgia Gold Medal winner that deserves a spot in every landscape where it will grow: USDA Zones 6A-9B.
Uses
Single Specimen, Groupings, Flowering Shrub Borders, Shrub Borders, Natural Hedge, Screen, Home Foundations, Espalier (grown flat against a wall),
Culture
The Snowball Viburnum is very easy to grow when planted in a location that provides well-drained but moist soils and sun or partial shade. It is very low maintenance requiring little if any pruning. It will tolerate dry spells but in severe drought it will benefit from supplemntal irrigation.
---
Helpful Planting & Care Tips Provided By Our Experts...
---
Put Abundant Color in Your Landscape Year Round With...
Works great with: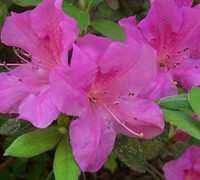 Autumn Amethyst™ Encore® Azalea
$31.99
$24.97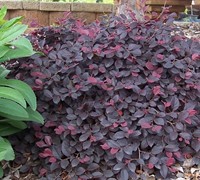 Purple Pixie® Loropetalum
(27)
$31.99
$23.97
Customer Reviews
(3)
5
out of 5 stars from
3
total reviews
3 reviews
0 reviews
1 reviews
0 reviews
0 reviews
Most Helpful Reviews
i love viburnum
May 8th 2015
by Mary - Saint Louis, Missouri
Have been trying to locate this variety for a while, not available in local nurseries, thrilled to find it at Gardener Direct!
Reply from Gardener Direct:
Hi Mary Ellen - Thanks so much for taking the time to provide us and visitors to Gardener Direct with your review of the Viburnum. We absolutely love the Chinese Snowball Bush...which we limbed up to form a small tree in our gardens. It's magnificent in spring when it produces its hundreds of large snowball-shape flower clusters. Ours usually blooms again in late summer/early fall. Hope you enjoy yours for many years to come as much as we've enjoyed ours. A truly remarkable plant that deserves a spot in every garden where it will grow. Let us know if there's ever anything else we can help you with. We're at your service!
Chinese Snowball Viburnum
May 22nd 2014
by Elizabeth - Oklahoma City , Oklahoma
Product arrived in great condition. Thank you!
Reply from Gardener Direct:
Thanks for the feedback and we are glad to hear the Snowball Viburnum arrived in great condition! Let us know if there's ever anything else we can help you with.
Blooming beautifully the first year!
April 18th 2014
by Diana - Southlake, Texas
Blooming lavishly and beautifully the first year, despite unexpected frosts which kills the first buds!
plants don't look very good
August 3rd 2014
by Ron - Martin, South Dakota
When the plants arrived a week after you sent them out. The box was smashed and the plant looked like they had took a beating. I should have done something then but thought I could get them planted and nurse them back to life. They have never looked very good all summer. They still have there leaves but just look sick. I hope they make it through the winter. Thank you for asking.
Reply from Gardener Direct:
Hi Ron - We appreciate your feedback and are very sorry to hear that the box was damaged and the plants are suffering as a result of what was most likely mishandling by the carrier. Though this kind of damage is a rare event (maybe 3 out of 1,000 orders), we like to know as soon as possible when this happens because we can make an immediate claim with the carrier and then send you replacement plants That being said, it sounds like your plants are still alive and might have a good chance to rebound. It might be next spring before you see new, healthy looking foliage. If the plants don't do well next spring let us know and will provide you with a store credit. In the meantime, the main thing you want to do is water only enough to keep the soil in the planting area damp or moist but not constantly soggy, which can lead to root rot and other serious plant diseases. It's better to water deeply less often rather than splash a little water around the plant every day. Water enough to deep soak the ground to a depth of at least 6 inches. Then allow soil to dry out somewhat before watering again. If you feed the plants, try using a mild, organic plant food. Let us know if there's anything we can help you with. We're at your service.
New Arrivals at Gardener Direct: