Product Details

More about Summer Snowflake Viburnum...
Noteworthy Characteristics
Summer Snowflake Viburnum is one of a very few ornamental shrubs that blooms all season long. In our gardens it produces a flush of pretty, white flower clusters every month from April through October! Attractive bright red berries in late summer are followed by wine-red fall foliage. With these attributes you'd think we were talking about a native dogwood tree, and many who visit our gardens and see it in bloom think its a dogwood until they get closer and see the florets.
Summer Snowflake Viburnum is very easy to grow. It will grow in full sun or partial shade, though in our gardens here in central Georgia we've found it performs better with a little shade or filtered sun during the hottest part of summer afternoons. That being said, in northern zones it should do fine in all day sun or partial shade.
Though it can be used as a hedge or in groupings, its season-long flowering and its nice, natural form as a small tree make Summer Snowflake Viburnum what we think one of those "must have" plants as a specimen in the landscape.
---

Helpful Planting & Care Tips Provided By Our Experts...
---
Put Abundant Color in Your Landscape Year Round With...

Works great with: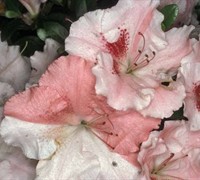 Hilda Niblett Azalea
$19.97
$13.97
New Arrivals at Gardener Direct: