How To Ship Live Plants In A Box
When we first considered expanding our land-based nursery business online, one of the major concerns...or what was really a fear...involved shipping live plants. We knew there were other nurseries dropshipping their plants by mail but we had no idea how they did it. The whole thing was foreign and a little spooky to us. Would the plants survive being in a box for a few days? Would the plants get damaged being tossed around by carriers?...and so on. So we did some research. What we learned was that it is very easy to safely ship plants by mail once you know the few simple steps - and it's definitely not rocket science!
We've now been dropshipping since 2009 and can say: It's easy as 1-2-3! It's something that costs your company little to nothing do and takes very little space. You can operate a dropshipping packaging facility out of a 10' x 10' interior space with only a few basic tools and supplies.
Here's a step-by step process of how we package plants in a box.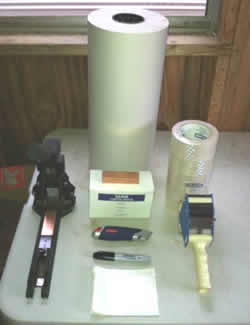 The only tools you need:
- Tape Gun
- Packing Paper (Comes in rolls)
- Box Cutter
- Box Stapler
- Magic Marker or Stickers/Labels for handling instructions ( This Side Up, Fragile, etc.)
Note: We purchase all the tools and supplies in the list above from a company called U-Line.
The Simple, Step-By-Step Packaging Process
Step 1
First, we take a look at the order and, based on the size and quantity of plants, select a box(es) that the plant(s) of a specific order will fit in.
---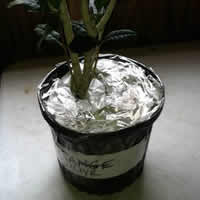 Step 2
We then pack paper around the trunk of the plant to cover the top of the pot. Then we tape it down as shown in the picture to the right. Doing this helps to hold soil, fertilizers and moisture in place during shipping.
---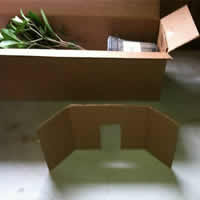 Step 3
We then place the plant(s) in the box as shown to right. Then, if necessary, and depending on the type and fragility of the plant, we might cut a piece of cardboard to size, as seen to right, that will be used as an insert to hold the pot safely in place.
---
Step 4
We place the insert in the box so that it fits around the trunk of the plant and then staple it in place from the outside of the box as shown to right. It works every time to keep more fragile plants from moving around in the box during shipping!Note: For most plants (80%) this step isn't necessary. We simply pack paper around the plant(s) to secure it as described in the next step.
---
Step 5
We then use enough packing paper to fill the empty space in the box around the plant as seen to right. We then tape the box closed and place the shipping label and packing slip on the top of the box.
That's it - it's that simple!
If you have any other questions don't hesitate to call Matt at (770) 573-1778 and he'll be more than happy to provide you with the answers you're looking for. We want to make you successful!
New Arrivals at Gardener Direct