Product Details
---
More about Royal Burgundy Barberry...
Noteworthy Characteristics
Royal Burgundy Barberry is the best of the dwarf red-leaved barberry varieties. The velvety reddish purple foliage is truly outstanding in the landscape and holds its color very well throughout the warm season until fall, when the foliage color changes to a blackish-red color. It is a strong grower maturing to about 2-3' in height with an equal or slightly wider spread.
Uses
We like planting Royal Burgundy in mass and combined with other plants that have golden, blue, grey or light green foliage. Plant that produce brightly colored yellow, orange, pink or white flowers are also excellent companions. Useful in small to large groupings, shrub borders, mass plantings, home foundation plantings, erosion control on slopes and embankments, and in rock and Xeriscape gardens.
Culture & Care Tips
Plant Royal Burgundy Barberry in fertile, well-drained soils. Consistently wet soils will cause problems with the roots. Exceptionally drought tolerant when established. It will tolerate some shade but the best foliage color is achieved in full sun.
---

Helpful Planting & Care Tips Provided By Our Experts...
---
Put Abundant Color in Your Landscape Year Round With...
---

Works great with:
Bar Harbor Juniper
$24.99
$19.97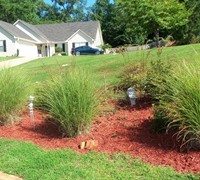 Maiden Grass - Miscanthus sinensis 'Gracillimus'
$27.97
$19.97
Customer Reviews
5
out of 5 stars from
2
total customer reviews
2 reviews
0 reviews
0 reviews
0 reviews
0 reviews
Most Helpful Reviews
Thanks!
October 4th 2015
by Bethany - Charlotte, NC
Received plants in good time and everything was healthy with no damage. Thank you for my new plants!
Royal Burgundy Barberry - Berberis thunbergii 'Gentry' Customer Review
September 22nd 2013
by Shelly - Bloomington, IN
Plants arrived quickly and looked healthy and well cared for. Very happy and looking forward to watching it grow in my yard! I will order again.
New Arrivals at Gardener Direct: