---
More About Red Trumpet Honeysuckle...
Trumpet Honeysuckle is a showy, fast-growing native vine that produces narrow, tubular, scarlet-red flowers 2 to 3 inches long that are held in abundant clusters all over the vine. The non-fragrant flowers start to come during mid-spring spring and persist through summer and well into fall. The flowers are a wonderful source of nectar for hummingbirds, butterflies and other beneficial insects. Flowers give way to small red berries which mature in fall and are attractive to birds.
This vine is evergreen in the warm winter climates of the deep South, hence the species name of sempervirens (meaning "evergreen" in Latin). The oval-shape dark bluish-green leaves are glaucous beneath. Oval, bluish-green leaves are glaucous beneath.
Trumpet Honeysuckle is easy to grow and maintain. The vines will grow in full sun to part shade but flowering is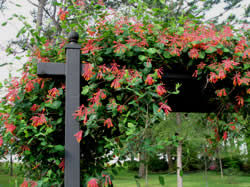 heaviest in more sun. Not to picky about soil type provided it is of average fertility and has good drainage, but prefers a moist, loamy soil. When planting in heavy clay soil amend with a good organic soil amendment. The plant blooms on previous year's stems and on new growth so prune to shape after flowering.
This vine is a perfect for growing up and over small arbors, trellises, pergolas, fences and even the mailbox. It typically grows to 8-15 feet long, and can be easily shaped and controlled with occasional trimming. We've seen no insect or disease problems on the vine that has been growing in our garden for over 10 years.