Product Details
Pachysandra is a slow growing groundcover plant that can be grown in USDA Plant Hardiness Zones 4A through 4A. It matures to an average height of 1 inch to 1 foot and an average width of 1 foot to 2 feet, depending on climate and other environmental factors. It prefers growing in a location that provides shade and grows best when planted in sand soil that is well drained. In the spring Pachysandra produces white flowers. The foliage is dark green in color. It attracts visual attention and is resistant to deer.

Pachysandra can be useful in the landscape along woodland borders and also in theme gardens.
---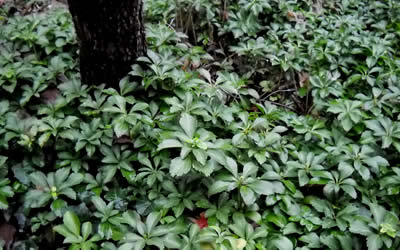 More About Pachysandra...
Wider than it is tall, Pachysandra (pronounced pak-uh-SAN-dra), commonly known as Japanese Spurge, is a very attractive evergreen groundcover that spreads via underground runners in shady areas of the garden. Pachysandra produces white blooms in spring but is grown primarily for its foliage.
Pachysandra is useful as a groundcover and is very effective for weed control, as they spread to form a dense mat that inhibits weed growth.
Pachysandra is best grown in partial to full shade and in a well-drained, acidic soil rich in humus. The plant prefers medium moisture but will tolerate dry shade. Apply soil sulfur or chelated iron for the darkest green foliage.
Helpul Related Articles Provided by Our Experts...
How Many Groundcover Plants Does It Take To Fill A Space Or Area?
How To Measure For Total Square Feet Of A Planting Space Or Area
How To Space And Lay Out Groundcover Plants In A Planting Area
How To Plant Groundcover Plants
How To Care For Newly Planted Groundcover Plants
---

Customer Reviews
5
out of 5 stars from
1
total customer reviews
1 reviews
0 reviews
0 reviews
0 reviews
0 reviews
Most Helpful Reviews
Great service and great plants
March 17th 2016
by Nathan - Chattanooga, TN
Very pleased with plants i arrived, they were very healthy and well packed. I would recommend your company!
New Arrivals at Gardener Direct: