Gardener Direct offers over 150 outstanding and unique varieties of Japanese Maples. You can plant these magnificent trees to add unrivaled asthetic and monetary value to your gardens and your property.
Our Japanese Maples are expertly grafted and grown in the state of Georgia. This will help trees to establish themselves more successfully in warmer regions as well as cooler regions. Our Japanese Maples are grown in 2, 3 and 5 gallon size containers and range from 2 to 4 feet in height depending on the variety. Note: True dwarf varieties and low-graft plants may be less than 2 feet in height.
---
About Cynthia's Crown Jewel Japanese Maple...
Cynthia's Crown Jewel creates a small soft mound of tiny palmate leaves with serrated edges that emerge lime green and pink in spring. In summer the leaves remain light green turning to orange and red during fall. Will grow to about 3 feet tall in 6 years. Tolerates full sun or part shade. A delight in container, bonsai, rock garden or border.
Japanese maples stand out best when they are planted as a single specimen or in small groupings. Use them to accentuate an entryway or as a focal point to draw attention to a certain area of the landscape or home. Be careful not too overcrowd your Japanese Maple. We suggest underplanting with dwarf, low growing shrubs or groundcovers.
Culture & Care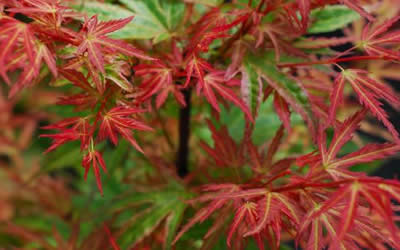 When provided the right environment in the landscape Japanese Maples are very easy to grow and care for, and long lived.
Soil - Japanese maples adapt well to many soil types provided there is good drainage. Consistently wet or soggy soils can be a killer.
Sun - Some varieties will tolerate full sun. However, in their natural habitat, Japanese Maples are understory trees, growing in dappled forest sunlight and at the edges of partially shaded woodlands. Ideally they prefer to be grown in similar conditions, especially in the warmer climate of the Deep South.
Pruning - When a specific variety of Japanese maple is planted in the right size space; where it have room to grow to mature size, rarely will it require pruning. That beings said, removal of damaged or stray branches that spoil the form of the tree can be performed almost any time of year. Heavy or major pruning is best left to professionals. If you hire someone to prune your Japanese maple make sure he/she has the credentials and ALWAYS check references.
Water - During the first two summers after planting a Japanese Maple, make sure to water enough to keep soil damp but not soggy. Constantly wet feet can cause serious problems. Proper planting method can ensure proper drainage over the long term.
Planting Your Japanese Maple
SEE: Detailed Planting Instructions For How To Plant A Japanese Maple in the Ground