Product Details
Ajuga Reptans 'Chocolate Chip' is a fast growing groundcover plant that can be grown in USDA Plant Hardiness Zones 3A through 3A. It matures to an average height of 1 inch to 1 foot and an average width of 6 inches to 1 foot, depending on climate and other environmental factors. It prefers growing in a location that provides shade and grows best when planted in sand soil that is well drained. In the spring Chocolate Chip Ajuga produces violet flowers. The foliage is bronze in color. It attracts visual attention and is resistant to deer.

Chocolate Chip Ajuga can be useful in the landscape along woodland borders and also in theme gardens.
---
More About Ajuga Chocolate Chip...
This unique variety of Ajuga sports relatively small, narrow leaves that weave a tight mat of foliage. The Chocolate Chip Ajuga's evergreen foliage is attractive year-round, showing off a satin sheen finish embossed with rich hues of chocolate brown, bronze and maroon. From mid to late spring, short spikes of light blue flowers stand upright above the low, spreading foliage. The effect is stunning when planted en masse.
Its petite size and lower habit make Chocolate Chip perfect for planting between stepping stones, in wall crevices, around boulders, or in other small spaces in shady to partially shaded areas of the garden. It is also useful for erosion control on slopes.
Thriving in growing zones 4-9, this beautiful plant is very cold-hardy and grows just about anywhere, preferring some shade in hotter climates of the South. It is adaptable to most soil types provided they are well-drained.
Helpul Related Articles Provided by Our Experts...
---
Find Just the Right Groundcover For Just the Right Spot

Works great with: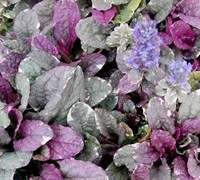 Ajuga Burgundy Glow Bugleweed
$29.99
$24.97
Customer Reviews
5
out of 5 stars from
1
total customer reviews
1 reviews
0 reviews
0 reviews
0 reviews
0 reviews
Most Helpful Reviews
Chocolate Chip Ajuga
May 1st 2013
by Jake - Providence, RI
Plants shipped fast and in great condition! Very well packed. Will order again.
New Arrivals at Gardener Direct: