Product Details
Vitex Agnus-Castus 'Shoal Creek' is a fast growing shrub that can be grown in USDA Plant Hardiness Zones 6B through 6B. It matures to an average height of 12 feet to 15 feet and an average width of 10 feet to 15 feet, depending on climate and other environmental factors. It prefers growing in a location that provides full sun and grows best when planted in sand soil that is well drained. In the summer Shoal Creek Chaste Tree produces blue flowers. The foliage is grey / silver in color. It attracts butterflies and is resistant to deer. If you like fragrance, Vitex Agnus-Castus 'Shoal Creek' has fragrant foliage.

Shoal Creek Chaste Tree can be useful in the landscape along woodland borders and also in theme gardens.
More about the Chaste Tree...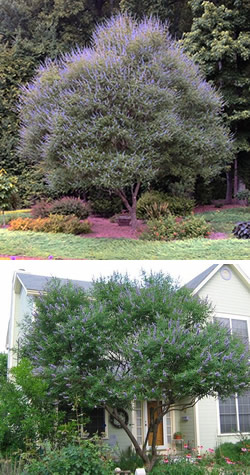 Noteworthy Characteristics
A tree that produces blue flowers??? Yes! Some people call this the "Sage Tree" because the striking, pretty spikes of violet-blue flowers resemble that of sages (salvias). An abundance of flowers are produced during summer. If the spent flowers are sheared off you can expect another good flush of flowers in late summer or fall. When it blooms, many mistake this tree for butterfly bush because of its long, cone-shaped flower clusters. The Chaste Tree quickly grows into a multi- or single-trunk tree to about 15 to 20 feet tall with an equal spread. The foliage is pleasantly aromatic and the very attractive palmate, finger-like, grey-green leaves bear a striking resemblance to the leaves of the marijuana plant.
The flowers of the Chaste Tree are very attractive to hummingbirds and pollinating bees. If the spent flowers are left on the tree in fall, seeds will form that Cardinals and other birds absolutely love. So, if you are into feeding the birds, this is a must have tree that will provide a free source of food for your birds.
In addition to the colorful flowers, the Chaste Tree also displays very attractive colorful bark.
Uses
The Chaste Tree can be used as a stand alone specimen, in groupings, or in rows in landscape beds, medians, or foundation plantings. Can also be useful for espalier against a tall, open wall or as a natural hedge or screen.
Culture
Chaste Tree is easy-to-grow plant that deserves a spot in every landscape where it will grow. Grows in almost any type of soil that has good drainage and locations that provide full sun to light shade. It is hardy in USDA Zones 6-10. In cold winter areas (USDA Zones 5 and 6) it is can be cut back each year and grown as a 4 to 6' shrub.
---

Helpful Planting & Care Tips Provided By Our Experts...
How To Plant A Tree On A Slope, Hill Or Embankment
How To Stake A Newly Planted Tree
---
See...

Works great with: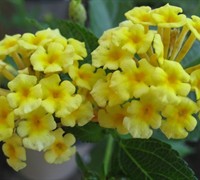 Chapel Hill Yellow Hardy Lantana
$24.99
$19.97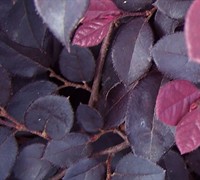 Purple Pixie Loropetalum
$48.97
$34.97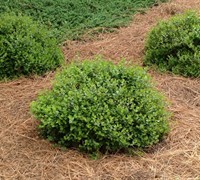 Rose Creek Dwarf Abelia
$46.97
$41.97
Pink Muhly Grass
$24.99
$19.97
Blue Rug Juniper
$29.99
$19.97
Customer Reviews
4.5
out of 5 stars from
4
total customer reviews
2 reviews
2 reviews
0 reviews
0 reviews
0 reviews
Most Helpful Reviews
Nice little tree
August 8th 2014
by George - Easton, Maryland
Arrived quickly, very well packed. Now (3 weeks later) growing nicely and is healthy.
Reply from Gardener Direct:
Thanks so much for taking the time to provide us and our vistors with your review. We are very happy to hear that you were pleased with the Chaste Tree and that it is doing well in your landscape. We love this tree and have several full-grown specimens doing marvelosuly in our own gardens. Let us know if there's ever anything else we can help you with. We're at your service!
The tree arrived in fantastic shape!
May 20th 2014
by Cynthia - Warsaw, Missouri
Packaged very well! We were surprised that it had leafed out already.Thanks!
Chaste tree
August 8th 2014
by Margo - Charlestown , Rhode Island
Arrived in good shape
Prompt delivery of an excellent product
May 20th 2014
by Darryl - Lawton, Oklahoma
I couldn't be happier with the condition of my new plant and was very pleased with how quickly my order was shipped. Thanks!
New Arrivals at Gardener Direct: