Product Details

More about the Slender Hinoki Cypress...
Noteworthy Characteristics
The Slender Hinoki Cypress is a very attractive coniferous evergreen that has an open-branched narrow pyramidal form. If left to grow naturally this conifer could reach 12-15 feet in height with a width of 5-6 feet at the base. The attractive foliage is deep green in color and consists of curled sprays. Branches are outspread and arching and usually somewhat irregular. Though some websites list this cultivar as "slow growing," in our gardens we've seen a moderate growth rate of about 12-24 inches a year in height.
Uses
Slender Hinoki Cypress is useful as a specimen, on the corners of homes and buildings, or arranged in straight or curved, single or staggered rows to form a very attractive screen or buffer.
Culture
The Slender Hinoki Cypress is easy to grow in a location that provides well-drained soil of average fertility and full to part sun. It is low maintenance requiring little if any pruning to keep it's naturally, narrow, pyramidal form. USDA Zones 5a-8b.
Helpful Planting & Care Tips Provided By Our Experts...
How To Plant A Tree On A Slope, Hill Or Embankment
How To Stake A Newly Planted Tree
---
See...


Works great with: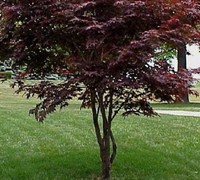 Hefner's Red Japanese Maple
$113.97
$89.97
Customer Reviews
5
out of 5 stars from
2
total customer reviews
2 reviews
0 reviews
0 reviews
0 reviews
0 reviews
Most Helpful Reviews
Slender Hinoki Cypress Customer Review
May 28th 2016
by Nancy - Sugar Land, TX
Received my plants fast and healthy! They were packed well had had no damage a all. Will order from you in the future!
Happy customer!
October 12th 2015
by Angie - Tuscaloosa, AL
Great website, i have ordered several plants from you before and all have arrived promptly and healthy. I am always so pleased by the quality and the packing. Thank you ToGoGarden.com!
New Arrivals at Gardener Direct: